Tigers' Zimmerman makes name for himself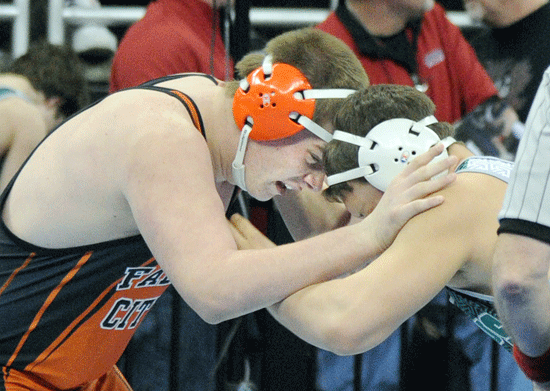 Falls City High School junior heavyweight Jeremy Zimmerman entered last week's state tournament unranked and somewhat unknown. He left with a medal in Class B and the much-deserved attention of his hefty peers.
Zimmerman, a team captain for first-year Tiger Coach Ernie Valentine, had a solid three days at the Centurylink Center in Omaha, capping a 37-9 season with a victory in the fifth-place match Saturday morning, earning a place on the podium while propping himself up for big things as a senior.
"Jeremy wrestled well all weekend," Valentine said. "We went toe-to-toe with the state runner-up, losing in overtime, but he picked himself up and finished strong.
"Jeremy is a kid who works hard, listens to his coaches and he got better every week. He fought hard all year," Valentine said.
Zimmerman's two losses were to the second- and third-place finishers. After pinning Conner Lusche of Columbus Scotus in 2:19 to start things off Thursday morning, he drew second-ranked Andrew Aratani of Scottsbluff in the quarterfinals. And he nearly pulled the upset, losing 4-2 in overtime.
"Jeremy never appeared in the rankings," Valentine said, "but we felt good about him going into state."
Aratani won 46 matches in 2013-14 and his season ended by pin in the finals to Matt Clark, Syracuse's unbeaten two-time state champ.
After the loss to Aratani, Zimmerman then wrestled his way back on Friday, capturing 2-1 victories over Jesse Marshall of Beatrice and fifth-ranked Blake Chick of Gretna. In the consolation semis, Zimmerman faced third-ranked Ronald Trevino of York and lost 3-0. He captured fifth with a 4-1 victory over Boys Town's Luis Pena.
FCHS' other qualifier, sophomore Morgen Valentine, didn't reach the podium, but he, too, only lost to medalists. He opened with an 8-7 victory over Jackson Coffin of York Thursday, but lost 6-2 in the quarterfinals to Cozad's Clay Trejo, who went on to finish third in Class B. He then lost a 10-0 major decision to Bennington's Michael Curzon to finish the season at 24-11. Curzon finished sixth.
"He wrestled hard, but he's going to have to take some steps to improve and get to the podium," which was his goal, Coach Valentine said.
This was Ernie Valentine's first year as Tiger head coach. He earned much acclaim as a wrestling coach in South Dakota before moving to Falls City three years ago to become Principal at South School. He was a volunteer assistant under Roger Windle for two seasons.
"Quite honestly, we have a lot of catching up to do in order to be competitive with other Class B schools," Valentine said.
The Tiger wrestling team appeared just once at home this past winter and had 16 kids out to start the year. "I'd like to have 30 up there," he said.
Valentine praised his captains – Zimmerman and senior Chase Thompson – and thought the program took a positive step.
"The captains did a good job and took the kids in a step in the direction we want them to go. We're always going to aim at getting more kids to state and more kids to the podium."