An Orange & Black canvas complete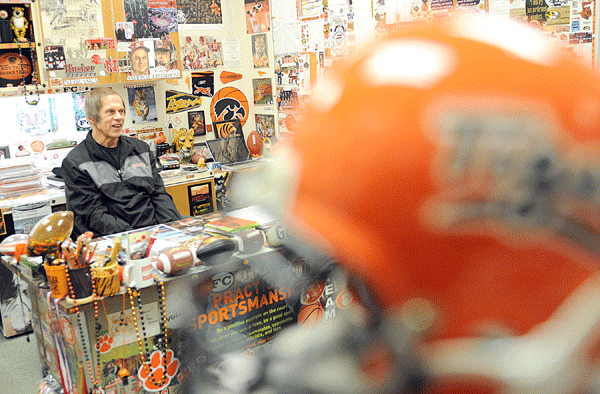 ---
Journal Editor Jason Schock contributed to this report
Darwin Palmer isn't light on conversation, just so long as he's not the topic. But a quick scan of his office and one can find out quite a bit about the man's 40-year career in education and athletics.
The longtime activities director for Falls City Public Schools submitted his letter of resignation to the school board last Monday, effective at the end of the current school year.
Palmer's 120-square-feet workplace, tucked around a corner of the main office at FCHS, seems to double as a canvas for a man uncomfortable talking about himself. Once blank, any space on the walls, desks, shelves, chairs and filing cabinets Palmer has filled with sports memorabilia, stickers, magnets, pictures of his former teams, old helmet decals and just about anything else sports-related.
Over the course of 23 years as activities director, coach and physical education teacher at FCHS and another 15 years previously spent at Dawson-Verdon, he's accumulated plenty of these items – the majority of them colored orange and black. Together they symbolize the love and pride he has for his profession (and his Tigers) without him having to say too many words about himself.
A 1968 Falls City High graduate, Palmer accepted his first teaching job in 1973 at Barneston, where he coached football and girls' basketball. It was there that he met his wife of nearly 40 years, Deb, who also taught at the school.
Palmer's father was diagnosed with cancer during his first year at Barneston and after Deb accepted a job at Plattsmouth, he moved to Omaha, where he could be closer to his sick father and their family farm.
"I took classes at UNO and substituted at OPS – Ralston, Papillion, Bellevue – for a year," Palmer said. "What kind of brought that along, too, was my dad got cancer right around the same time and died my last year at Barneston. He had the farming operation, so I was living in Omaha, but I was back a lot helping out at the farm. I did that for a year, then the D-V job came open the next year, so I applied and got the job."
From 1975 to 1989, Palmer taught physical education and served as the head coach in both girls' basketball and football at DV (interestingly, though he grew up fewer than 10 miles from Dawson, the first time Palmer set foot – or even laid eyes on – the football field behind the DV school was as Barneston's coach).
It was during his time at DV that Palmer's reputation as a coach grew. Hours spent watching film on opposing teams resulted in detailed, organized scouting reports, which through the years have taken on an almost legendary status of their own.
Ask any of Palmer's former players and you'll likely hear a story about those scouting reports.
"I remember at Dawson-Verdon, we always knew that we would be better prepared than our opponent," current FCHS head football coach Darin Fritz, who played for Palmer at D-V from 1981-85 and has led the Tigers to back-to-back six-win seasons in his two years at FC, said.
"His scouting reports were very complete and very accurate. You knew that he was putting in a lot more time than you were to get you prepared to play. To me, the man is a legend and will always be my 'Coach.'"
In 1989, D-V co-oped with Falls City High in athletics and Palmer joined Tiger head coach Keith Richey's staff as an offensive assistant, a role he would keep until the fall of 1992 when he accepted head coaching duties.
"I was a junior when Coach Palmer and a few DV players joined the team," Jason Schock, Journal Editor and 1991 FCHS graduate, said. "At the time I, typical of a 17-year-old, I guess, didn't think beyond what the co-op would mean to me, my position, my playing time. In hindsight, as an adult, I see how hard it had to be for all those guys, including Coach Palmer. Not only were they were being removed from their own school's program – which had a strong tradition, not to mention a pretty great playoff team the year before – but I imagine they felt like outsiders in our locker room. At least at the beginning. Plus, coming from a very small school (Class D2) to a fairly big one (FCHS was Class B at the time), probably made it that much harder. As for Coach Palmer, suddenly taking an 'assistant' label had to be a bitter pill to swallow because, and I mean no offense to the other coaches, it didn't take long to realize Coach Palmer was the smartest guy in the room."
Palmer amassed a 37-35 record in eight years as the Tigers head coach, but that doesn't come close to telling the story. For one thing, that doesn't include the "Tiger-Jet" years.
"Coach Palmer said very little for maybe the first six weeks of the season," Schock said. "Then, after watching a total mess fall to 0-3, he basically grabbed the clipboard and took over the offense. He changed blocking schemes and gave the best player (Cameron McNabb) the football, which sounds simple enough. But from that point on, Darwin sent the plays in. He showed you how to do things the right way. Of course, he also could tell you what plays the other team would run, which direction they'd run and which kid would have the ball. We didn't listen near enough, but overnight that team went from bad to good enough to win most games.
"Needless to say, Coach Palmer and his DV guys were very quickly welcomed with open arms in that locker room," Schock said. "We were losers and he made us winners."
The second year of the co-op saw the Tigers post a 9-0 regular season record and make the eight-team Class B playoffs. FC went 7-2 the following year, losing to Maryville, MO, and Auburn by a combined five points. Back then, two losses were too many to qualify for the postseason.
Palmer continued producing solid Tiger teams throughout the 1990s. The win-loss record aside, there was no better fall campaign, perhaps, than in 1996. The Tigers were 0-3 and had scored a grand total of 12 points when Palmer made the gutsy move to pull a senior QB (Andy Armbruster) and make him running back, and then bring on a junior QB (Todd Godemann) who had taken few, if any, consequential varsity snaps. Three straight wins followed, setting up a regular-season finale with an unbeaten Auburn team headlined by an eventual 24 million dollar Buffalo Bill. That 12-6 Tiger win over Chris Kelsay's fourth-ranked Bulldogs was as recently as last year declared one of the biggest upsets in Nebraska high school football history by long-time Omaha World-Herald sportswriter Stu Pospisil.
But was it, really? After a 38-8 Tiger win in 1994 and a 27-7 FC victory in 1995? On one hand an upset – on another, a third consecutive win over a rival.    
"Chris (Kelsay) was a freshman and Chad (Kelsay) was a senior. They were undefeated and I started two freshmen running backs, Chad Scholl and Marc Martin, and Jeff McNeely was a freshman starter on defense," Palmer fondly recalled the '94 game, almost smiling. "The first time it was fourth down for them, they ran a fake punt and we stopped them. Then we scored and I remember we were ahead 27-0 at halftime."  
Palmer coached every football game of the decade in the 90's, first as an assistant, then as the head coach, and resigned after the 1999 season. He stayed on as AD and continues to mentor athletes to this day, until May.    
Success also came to the Lady Tigers basketball program under Palmer's direction. Palmer took over the girls' program in 1993-94 and posted back-to-back 13-win seasons his first two years. In 1996-97, Palmer's team set a school record with 21 victories and reached the state tournament for the first and only time in school history. The Lady Tigers won 19 games the following season, but came up short in the district final. In the 39-year history of Lady Tigers hoops, only seven have finished with a winning record and Palmer's teams are responsible for four of those seven.
"His coaching style and the time and effort made him great," FCHS head volleyball coach Julie Frederick said. Frederick was a senior on Palmer's first team in 1993-94. "As a player I could see all the time and effort he put into the program. From practice to the scouting reports to game situations, he was very passionate about his job as a coach."
Susan (Bernhardt) Witt, who played for Palmer at DV and then worked with him at FCHS for 12 years as Tiger volleyball coach, said her first coach taught her valuable lessons she applies to this day. He told me, "Work as hard as you want your players to," she said.
"Work as hard as you want your players to."
Playing for him was awesome," Witt, now the head volleyball coach at FC Sacred Heart, said. "He made us work hard but allowed us to laugh and have fun. One thing that really made me feel good was when he came and watched me at college one time. That really meant alot to me and that has always stuck with me.
"I consider Coach Palmer to be one of my favorite coaches, a friend and a mentor," Witt said.
Current Falls City High Head Basketball Coach Don Hogue, who graduated from DV and played four years of football for Palmer, joined the Tiger football staff the same year Palmer took over the head coaching duties. Hogue also spent all seven years with Palmer on the Lady Tigers coaching staff and much like Fritz and Frederick, Hogue noted Palmer's preparation.
"He did everything right. He prepared tremendously, watched a lot of film, was very detailed with his scouting reports and film watching, and I think I've picked that up from him, probably quite a bit from him. Having a team prepared, knowing what to expect and how to counter things, to me, that's been a huge thing.
"He's really meant a lot to me," Hogue added. "He more or less got me where I'm at today by teaching me the little things to succeed."
With that sentiment, it should be noted that Hogue, who recently surpassed the iconic Jug Brown himself to become the winningest coach in school history, is Palmer's logical replacement as AD.
"I don't think Coach Palmer really has any idea at all how many lives he has impacted in a positive way over the years," said Fritz. "Our current coaching staff has several coaches that played or coached with Mr. Palmer, I bet there isn't a day that goes by when a story about Coach Palmer isn't told."
Palmer said his motto over the years has always been to do the best that he could do because that's all you can do. This helped him form rock solid relationships with so many people and those are what he'll miss the most.
"I'll miss the relationships with the teachers, the staff, the students and the athletes," Palmer said. "I teach three classes now and I really enjoy them, so I'll miss that and then I enjoy the camaraderie with coaches and athletic directors for the other teams."
Palmer credited the whole community for all they've accomplished over the years at Falls City Public Schools, noting the renovation of Jug Brown Stadium in 2005 when the Field Turf and new track were installed. The new state-of-the-art weight room was a labor of love for Palmer and many others, who spent countless hours putting the project together.
Together, all the work on the projects, the relationships formed with faculty, students and colleagues, and the memories he's made fit together like all the random items lining the walls of his office.
Calm and cool, Palmer's demeanor rarely changed as he looked back at his career and looked forward at retirement. As the conversation winded down, Palmer offered a reassurance in the way only he could.
"I'll still be around," he said with a grin. "I'm not going any where."
---
(ED NOTE – Who or what led to Coach Palmer's resignation isn't a question he would appreciate being asked, so we didn't. But unless he tells me otherwise, I'll always be convinced retirement was not on his mind as he walked off Lincoln's Seacrest Field on Oct. 29, 1999. Nor was it at any point during that fall.
But in remembering a conversation we had after that game and after rereading the Nov. 2, 1999 edition of The Journal, I'm struck by the depth of his message and the profound effect it has since had on me – personally, professionally and as a father. A message admittedly neither applied quickly nor yet fully developed and sadly one sometimes altogether ignored in the way I perceive other people, the games we play, difficult situations, anger, joy, the world, all of it. He gave me a quick yet lasting lesson in perspective. Proper perspective – for a young(ish) sportswriter who needed to realize funny can also be hurtful and some things really are better left unsaid.
I called him for an interview I knew he didn't want to give about a subject – a losing season – I assumed he'd rather forget. I was wrong because I learned from Darwin in that interview that success isn't defined with wins and losses. 1999 season was not one Coach Palmer would rather forget. None of them are.
Quote taken directly out of the Tuesday, Nov. 2, 1999 edition of The Journal:
"It was a good season. They had a lot of unity and I hope they'll always remember the friendships, road trips and camaraderie and their teammates.
"I guess in terms of wins and losses this wasn't a good season. But this group was always coachable and worked hard. It really was a special group that came back every week. They had a lot of heart."
He went a step further, expressing that it was the teams that fought as hard as they possibly could, never quit, lost and yet came back the next day were, in fact, the biggest winners. They had learned the hard life lessons in a way the kids who experienced only the good stuff didn't.  
That's what "special group" meant to Darwin Palmer.
Thank you, Coach Palmer, for being a special coach.
-JS