Defending Pioneer champs, hosts look to repeat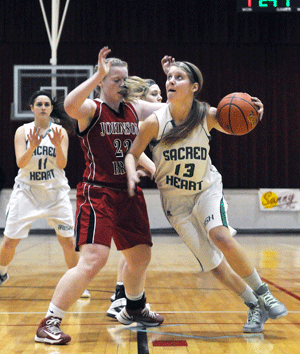 In a preview of sorts, and a timely one at that, top-ranked Falls City Sacred Heart rattled off three conference wins last week to improve to 18-1 on the season and last year's Pioneer Conference champs head into this week's Pioneer tournament on the heels of a six-game winning streak.
The Lady Irish held off Lourdes Central Catholic, 35-29, Friday in Nebraska City, after defeating Johnson-Brock 58-34 in Falls City Thursday night. Last Tuesday, FCSH traveled to Wymore and left with a 49-37 win over Southern. NCL and J-B are both on FCSH's side of the bracket this week, as sixth-seeded NCL (10-7) faced D2 fourth-ranked and third-seeded Sterling (14-4) last night in Johnson in the firs round. Seventh-seeded J-B (8-10) hosted No. 10 seed Lewiston (2-16) in their opening round game, with the winner advancing to face FCSH today at 4:30 in Johnson.
The Lady Irish struggled from the floor Friday night at Nebraska City where they finished just over 40 percent (11-for-27) from the floor. Outside of sophomore Maggie Goltz, who led FCSH with 15 points on 7-of-10 shooting, only three others – senior Ashli Jordan, junior Elizabeth Magdanz and freshman Jade Hill – finished with a made field goal.
Fortunately  though, FCSH converted 11 of 16 free-throw attempts and defensively, held NCL to less than 32 percent shooting and forced 14 turnovers. Lourdes kept it close with a 28 to 15 advantage on the glass, which included a 12-to-2 edge on the offensive boards.
Defense also highlighted Thursday's win over J-B, as FCSH tallied 11 blocked shots, 15 steals and forced 20 J-B turnovers. Goltz was responsible for seven blocks and added 17 points and seven rebounds. Freshman Haylee Heits also pulled down seven boards and swiped a team-high five steals to go along with 10 points, while junior Abby Magdanz finished with 14 points, including 2-for-5 from the three-point line, and senior Ashli Jordan finished with nine points, three steals and six assists.
Goltz's big week started last Tuesday at Wymore where she topped her previous season-high of 20 points with 23 points on 9-of-13 shooting against Southern. Goltz and senior Emma Schock each grabbed five rebounds, while Abby Magdanz dished out five assists to go along with seven points.
Defending their conference title will be another tough task for the Lady Irish, who have won 10 of the 18 Pioneer tournaments and finished runner-up six times. Barring a pair of upsets, FCSH would face Sterling Thursday at 6 p.m. in the semifinals. FCSH defeated Sterling 59-31 in the season-opener.
A victory Thursday would advance FCSH into Friday's 7:45 p.m. championship, where they will most likely face Class D1 No. 2 and top-seeded Friend (17-1), who the Lady Irish defeated, 45-35,  in the semifinal round of last year's conference tournament. Friend's opening round opponent today will be either No. 8 seed Pawnee City (6-9) or No. 9 Humboldt-TR-S (4-12), followed by a semifinal game Thursday at 3 p.m. against No. 4 Southern (12-6) or No. 5 Diller-Odell (10-6). FCSH and Friend have combined to win the past six Pioneer Conference tournament.
Thursday's semifinals (3 p.m., 6 p.m.), as well as Friday's third-place (6 p.m.) and championship (7:45) games will be played at Prichard Auditorium. Consolation games will also be played at 9:30 a.m., 11 a.m. and 12:30 p.m. on Saturday at NC Lourdes and Johnson-Brock.  
Scoring vs. NCL
FCSH – Jordan 6, A. Magdanz 5, Fouraker 2, Goltz 15, Hill 3, Heits 4.
NCL – Heng 8, DeFreece 4, Box 12, Fulton 3, Warga 2.
Scoring vs. J-B
FCSH – Jordan 9, A. Magdanz 14, E. Magdanz 3, Goltz 17, Barnes 2, Hill 1, Keithley 2, Heits 10.
J-B – Wenzl 2, Alberts 3, Rowe 11, E. Bohling 4, Teten 1, Newman 5, Dunekacke 2, J. Bohling 6.
Scoring vs. Wymore Southern
FCSH – Jordan 7, A. Magdanz 7, Schock 2, E. Magdanz 7, Goltz 23, Hill1, Heits 4.
WS – Dorn 9, Baehr, 2, J. Creek 1, S. Creek 9, Buss 16.