After 92 years, Hoy's Ideal Cleaners closes its doors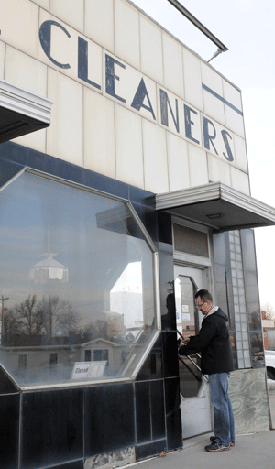 Steve Hoy last Thursday locks up for good. The family-owned and operated business started in 1922. They built at the current location at 1817 Harlan St. in 1937. Photo by Jason Schock.
Owner Steve Hoy flipped the 'Open' sign to 'Closed' for the final time Thursday evening at Hoy's Ideal Cleaners. After 92 years, the family-owned dry-cleaning business with one of the most recognizable storefronts in southeast Nebraska closed its doors for good.
Hoy returned to the family business on January 1, 1986 and took over the owner-operator title when his father, Stacy William "Bill" Hoy, Jr., passed away in September of 2005, after more than 55 years as owner. Steve and current employee, Lisa Ramer, were joined Thursday by Steve's wife, Stacy, and their two sons, Ryker and Patrick, as they hung two poster board signs on the large, eight-sided storefront window that read, "OUR FAMILY WILL NEVER FORGET YOUR SUPPORT! BUSINESS CLOSED."
Ideal Cleaners began in 1922 in the back of Steve's grandfather Stacy Hoy's home, which was located at 1215 Stone. The establishment moved to a location on West 16th Street, west of the old Father's Clothing, and then into Stephenson's Hotel before building on the present 1817 Harlan site in 1937.
Bill grew up in the dry cleaning business and attended Notre Dame for two years after high school. In the summer of 1950, he took a summer course at the National Institute of Dry Cleaning in Maryland and returned to Falls City to take over for his father.
Steve said his father never considered retirement and the one time the two discussed the topic, a rather timid squabble ensued.
"When he was about 70-years-old, we got into a little argument because I said to dad, 'Why don't you retire?'" Hoy said. "He told me he was afraid to because any time one of his friends retired, they passed away within a couple years. So he kept working and doing what he wanted to do."  
Bill and wife, Tootie, raised eight children – Bill, Pat, Mike, Tim, Kathy, Jim and Brian – who, according to Steve, also "grew up" in the family business. Steve laughed as he reflected on his first days on the job.
"January 1st, 1986 was my official first day in here, but I grew up in here working. We all did," Hoy said. "Actually, we started working in here when we were about nine-years-old."
Much changed during the nine-plus decades Ideal Cleaners served Falls City. From the cleaning methods used – gasoline and a clothesline to petroleum-based solvents and expensive equipment – to the ever-changing fashion choices of their customers, which through the years included everything from three-piece suits to leisure suits, formal gowns to mini-skirts, derby hats, Open Road Stetsons and fur coats.
Steve looked back on the years fondly, as he recounted stories passed along to him by his father or through his own firsthand accounts.
"My dad would tell me about the early days of the business when my grandfather cleaned clothes at their old house on Stone, he'd hang them out on the clothesline to deodorize and some times on a hot day the clothes would catch on fire," laughed Hoy. "My dad remembered watching my grandfather running around trying to put the fire out. I always thought that was kind of funny."
His father told him about Saturday nights in Falls City during the 1950's and 60's when people gathered in the town square and all the men wore hats.
"He used to tell me people would come to town on Saturday nights and he would stay open until 10 o'clock at night," Hoy said. "Every gentleman who came into town wore a hat. On Saturday nights my dad stayed open and cleaned 15 to 20 hats and watched as they walked the square. The old square was 'hoppin' he said."    
Business picked up during the last few weeks Hoy said, but with fabrics increasingly becoming "wash and wear," as Hoy referred to them, the need for dry-cleaning slowly decreased over the years, beginning in the late 1960's.
"My dad said there was a big change in dry cleaning in the late-60's and early-70's when they developed polyester," Hoy said, adding that prior to polyester most worn fabrics were made out of wool or cotton. "Polyester was a new fabric and the new thing about it was 'wash and wear.'"
"Wash and wear" Hoy explained, are fabrics that are safe for people to wash at home, which saves them time and, more importantly, money spent dropping items off at their local cleaners. Hoy also pointed to the increase in more casual-dress attire.
"People dress more casually now," Hoy said. "They don't dress up as much as they used to for functions and even in the workforce, business people tend to dress down more than they did."
As customers entered the business to pick up items one final time, Steve paused his storytelling to thank them for their many years of support and they replied with thank-you's and well wishes of their own.
"We're sure going to miss you," one customer said.
Hoy mentioned the hard work of former employees, Stephanie Vice, Delpha Vice, Shirley Wilhelm, Carol Dodds, Walter Huettner and Bob Casey, and thanked them for their time spent at the business.  
The decision to close was a difficult one for Hoy, but one made easier by the support of his family.
"My biggest hesitation or concern was closing the family business, but they were all very understanding.
"I've had a lot of great customers over many years, even those from my dad. Your regulars every week, people like that I'd like to thank and we'll definitely miss them."