Falls City Area Jaycees 2014 Distinguished Service Awards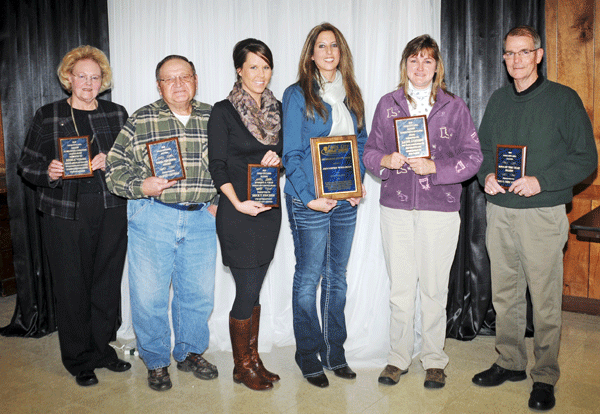 ---
The Falls City Area Jaycees, as they do each and every January, held the annual Distinguished Service Awards Ceremony and celebrated our community's outstanding people of human service.
Like previous DSA ceremonies, it was held inside the Elks Club as winter raged on outside. Like previous DSA ceremonies, a new group of officers were sworn into their new roles. Like previous DSA ceremonies, there were touching moments and praiseworthy civic-minded award winners.
Unfortunately, though, this particular DSA ceremony, held Monday, Jan. 20, was notably different from the others. This time, the Jaycees weren't in a position to distribute sizeable donations to an extensive list of local organizations and charities, as they've done in the past (they awarded $9,000 in checks at the 2013 banquet). And the primary reason for the lack of funds was poor ticket sales to Jaycee-sponsored public events throughout the last calendar year.
On that unfortunate note, Jaycees President Chris Fischer implored those in attendance – and projected out to all those in our community who directly or indirectly benefit by the Jaycees traditional benevolence and generosity (Editor's Note – That would be all of us) – to support Jaycees events.
"The Jaycees host several different events and fundraisers throughout the year," Fischer, who is staying on as President for a second year in a row, said. "Many of these events have been put on for several years, such as the demolition derby and tractor pull. With the new Community Field, the Jaycees have been trying to expand the number and types of events. This is done not only to provide different events and entertainment for the people of Falls City, but also to raise money to give back to community organizations.
"The Jaycees cannot do what we do without the support of the citizens of this community. We would like to encourage you, the people of Falls City and surrounding areas, to support the Jaycees by attending the events we sponsor. You are not only supporting the Jaycees, but you are supporting all of the organizations of the community that are given donations," Fischer said.
Fischer then thanked a list of folks who "go above and beyond to help us with our events," naming Mark and Becky Brewer, Donnie and Coleen Stevens, Bruce and Pam Merz, Cory Snethen and Family, Jim and Shirley Jones, Mike Weaver, Kevin Taft, Dave Feek, Brian Witt, Madeline Wilhelm, and Bart and Brett Keller.
Earlier in the evening, six individuals were recognized for their outstanding service to this community. "As this community is filled with many deserving individuals, these six have stood out in their volunteerism and contributions in 2013: Marvin Arnold, Good Neighbor Award; Becky Fischer, Robert J. Chab Community Service Award; Lauri Auffert, Outstanding Educator Award; Tony Brunette, Boss of the Year; Merle Veigel, Outstanding Community Leader Award (accepted by his wife, Sara, as Merle was out of town, visiting his daughter); and Jennifer Willman, Distinguished Service Award. In addition, Rachel Jackson presented the Hugh O'Brian Youth Awards to Falls City High School sophomore Madison Buckminster and FC Sacred Heart sophomore Maggie Goltz (who had a school-related conflict and was unable to attend).
Stefanie Wenz, on behalf of 2013 Good Neighbor Award winners Jim and Linda Beckner, presented Arnold with this year's Good Neighbor Award. Arnold, stated in a submitted letter of nomination, "toils in the soil for the benefit of his family, friends and neighbors.
"During the past year, he has planted, tended and harvested a garden…he not only shares with this friends and family, but delivers to the nursing homes and senior citizens center in Falls City," Wenz read. "For the entire growing season, three or four times a week, he arrives with produce in volume large enough to feed 80-100 people at a day's meal. All this is donated and nothing is expected in return."
Dr. Tom Bartek presented Fischer with the Chab Community Service Award in honor of his late wife, Kathy, the 2013 winner.
Becky, according to the nomination letter written supporting her, "wears many hats at her job," yet "is always quick to volunteer at her daughter's school with a varity of projects," Dr. Bartek said. "Her supervisor at work states that she is very compassionate and shows kindness to everybody she deals with as if they were her own family."
The Outstanding Educator of 2013, Susan Nutzman, presented Mrs. Auffert with this year's award and in doing so provided the most poignant moment of the night.
"While teaching in the FC District the last 38 years, I have taught next to many talented educators," Nutzman said. Auffert, she said, "is one of those very special teachers. Teachers find themselves doing lots of different jobs…we teach, review, tutor, mentor, coach, discipline, give tests, attend meetings and try to make a difference in every child's life. But when a teacher gives of him/herself and becomes a special person and friend in a child's life- that's the difference."
Lauri Auffert, she said, "is one such person."
Mrs. Auffert's letter of nomination was written by parent Alysia Schawang, who called Lauri "the most patient, compassionate, and kind teacher she has ever encountered."
"Her son doesn't spend a lot of time in his regular classroom," Nutzman said, "but his teacher last year kept him in her room as much as possible, rather than send him back to his special classes. She would let him sit next to her desk and give him special jobs and then during her 'free lunch time'…would go down to his room and spend more time with him…. She took the time to make her son feel special, and he gets the biggest smile on his face when anyone mentions Mrs. Auffert.
"Cabe often tells others that Mrs. Auffert is his best friend, replacing his usual answer of 'mom.'  Alysia added, "Because Cabe needs extra help with simple everday living, he always has an adult with him. Even though Mrs. Auffert doesn't have Cabe in her room this year, Mrs. Auffert takes Cabe out for a pop after school …and even tutored him in reading this past summer.  Cabe still claims "Mrs. Auffert" is his teacher.
"We will forever be grateful to her for making such a great impact on her son's life!….Thank you to Mrs. Auffert for being a teacher and more importantly a friend to my special son and including him when you didn't have to.  She always puts the children before herself and deserves to be acknowledged!"
At this point, Mrs. Auffert had reached the podium to receive her award and get a special surprise hug from Cabe. There was applause, too, but few dry eyes.
"Please help me in congratulating Mrs. Laurie Auffert who has used her uniqueness to impact the lives of Falls City students," Mrs. Nutzman said.
Kaytlyn Kennedy presented Brunette, of F&M Bank, with the Boss of the Year Award. Tony is described as "an easygoing guy who 'quietly' goes about his duties…and is never too busy to answer questions and resolve issues, while always keeping things running efficiently and smoothly. If he is overwhelmed, you'd never know it.
"His can-do attitude keeps you thinking outside the box and striving to succeed. He's not only our go-to guy, but customers have come to depend on him for guidance and friendship," Kennedy said.
Brunette, furthermore, is a leader in the community. He's involved in Lion's Club, Main Street, Chamber of Commerce and Richardson County Cancer Society, to name a few.
"His unselfishness to help others is a quality hard to match!," Kennedy read.
The Outstanding Community Leader, Merle Veigel, also hails from F&M Bank. The 2013 winner, Doug Kirkendall, presented the award to Merle's wife, Sara, as he was out of town tending to his under-the-weather daughter and unable to attend the banquet.
Merle was nominated by John Nixon, who wrote that "Merle is never one to toot his own horn, so we likely don't know all of the organizations he has helped over the years."
For starters, though, the bank CEO serves as chairman of the Falls City Utility Board and has for many years. The group meets twice per month and makes recommendations to the City Council concerning things like purchases for backup generators for the water plant, purchases for new bucket trucks, and infrastructure needs for the city.
"It takes a dedicated person to serve on the Utility Board," Nixon wrote, "requiring confidentiality when working with prospective businesses and an understanding of what is right for the community."
Veigel is also Treasurer of the Falls City Education Foundation, which is responsible for awarding tens of thousands of dollars in scholarships each year to FCHS students. Needless to say, the job entails a mind-numbing amount of bookkeeping.
In addition, Veigel has been a longtime member of the Rotary Club and the Clefsmen Group.
"If I remember correctly, he has also served on the trash committee for Cobblestone for a number of years, proving that his is willing to do his part, no matter what the job," Nixon wrote.
Jessica Fischer, on behalf of 2013 DSA winner Jason Scott, presented Willman with this year's Distinguished Service Award.
Willman, according to the nomination letter written in her support, "is dependable, hard working and a great example of a leader. We knew she'd be a perfect addition to the Jaycees.
"She didn't hesitate or ask what she needed to do. She jumped in with both feet and did whatever needed to be done to survive. She has held many vice president positions during her time and although her time is coming to an end we know that her voice will still be a very strong YES when we need a volunteer and she will not disappear. She has made a huge impact."
Willman, among other jobs, has worked many DSA banquets, chaired concession stands and beer gardens and was a big influence on the Community Field project.
 
"It's no unlikely for her to plan vacations or family and friend gatherings around Jaycee events because they are important to her.
Willman has also been an active volunteer with the Elks Club, serving on the Lodge House Committee, chairing events and cooking for stag or family nights.
An avid pet lover, Jennifer is eager to help the Humane Society in her spare time.
"Jennifer is a wonderful person," Fischer said. "After all these selfless acts, she still has time and energy to put into being a wonderful friend."