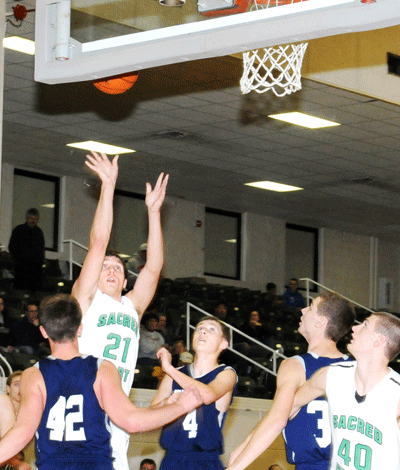 Experience prevailed over youth in a big way Friday night at Prichard Auditorium.
Containing Falls City Sacred Heart's senior-dominated roster proved to tall a task for the Titans, whose roster includes just one senior, and the Irish rolled to a 75-34 victory.  
The Irish erased a 6-4 deficit early in the first quarter by outscoring the Titans 45-13 to take a 30-point lead into the halftime break.
FCSH finished 29-of-58 from the floor (58 percent), by far their best shooting performance of the season, and drained seven of their 14 three-point attempts – also a season-high.
Like most head basketball coaches in December, Irish head coach Doug Goltz was hesitant to praise his team and said there is still plenty to work on.
"We shot the ball well tonight, but a lot of those shots were lay-ups," Goltz said. "The biggest concern is we're not in very good basketball shape yet and the moratorium doesn't help, but we'll keep working at it and get better."
Goltz noted his team's free-throw shooting, which currently sits just above 62 percent (73-117), as one of the areas that will be benefit from being in better shape physically.
Nonetheless, Goltz and the Irish enter the holiday break at 6-0 with a high ceiling.
Irish senior Matt Goltz and junior Logan Scheitel finished with 15 points each, while seniors Colin Niemeyer and Sean Strasheim added 12 and 10 points, respectively. Scheitel also grabbed a team-high seven rebounds.
HTRS was led by sophomores Kaleb Knudson's nine points and Eli Herr's eight points. The Titans played without starters junior Noah Sherman and sophomore Nolan Schafer, who missed the game due to illness.
Up next for the Irish is the Freeman Holiday tournament  (Dec. 28th and 30th) and a first-round matchup with Thayer Central (1-2). Opposite of FCSH and Thayer Central are two of Class C2's finest teams – preseason No. 5 Freeman (3-2) and returning C2 state runner-ups and preseason No. 8 Sutton (2-2).
FCSH and Thayer Central square off Saturday in Adams at 3:45 p.m. in the South Gym with Freeman and Sutton scheduled for a 5:30 tip-off in the North Gym.
Monday's action includes the championship at 7:15 p.m. and the third-place consolation at 3:45 p.m. Both Monday games will be played in the North Gym.
Friday scoring
FCSH –  Niemeyer 12, Dunn 8, Malone 2, Goltz 15, Arnold 4, Scheitel 15, Fiegener 5, Strasheim 10, Mullins 1, Ramer 3.
HTRS – Knudson 9, Kuhlmann 4, Pineda 2, Bredemeier 4, Hain 7, Herr 8.
––––––––––
GIRLS FINAL
HTRS    23
FCSH    57
Top-ranked Falls City Sacred Heart improved to 6-0 Friday night with a 57-23 victory over the Lady Titans of Humboldt-TR-S, who fell to 1-4 on the season.
Two of the Lady Irish's top scorers – junior Abby Magdanz and sophomore Maggie Goltz – struggled early, scoring just five and six points, respectively, in the opening 16 minutes. They responded in the second half, though, and accounted for 23 of their team's 30 second-half points, as each finished with 17 points. Junior Elizabeth Magdanz hit a pair from downtown and also finished in double figures with 10 points.
HTRS played one of their better games, considering the opponent and their recent shooting struggles. Their 23-point effort was their second-highest total of the season. Sophomore Jena Fink led the Lady Titans with 11 points and senior Destiny Worthey added seven points.
FCSH travels to Adams for the Freeman Holiday tournament (Dec. 28th, 30th) and will face Thayer Central (0-4)  at 5:30 p.m. Saturday in the South Gym in the opening round. Preseason contenders Freeman (4-1) and Sutton square off at 3:45 p.m. Saturday in the other half of the bracket. Monday's championship is scheduled for 5:30 p.m. in the North Gym and the third-place consolation game is set for 2 p.m., also in the North Gym.
Friday scoring
FCSH – Jordan 5, A. Magdanz 17, Schock 2, E. Magdanz 10, Goltz 17, Hill 2, Keithley 4.
HTRS – Je. Fink 11, Worthey 7, Alexander 1, Ja. Fink 4.
Tuesday, Dec. 17
IRISH BOYS   59
LEWISTON    48
FCSH converted 7-of-9 fourth-quarter FT's to hold off Lewiston who cut a 13-point halftime deficit to three points early in the final frame. Scheitel drained three three-pointers to lead all scorers with 18 points and Dunn added 16 points on 4-for-8 shooting from behind the arc to lead the Irish by the Tigers. Goltz grabbed 10 boards and scored nine points. 
Scoring vs. Lewiston
FCSH – Niemeyer 7, Dunn 16, Malone 7, Goltz 9, Scheitel 18, Fiegener 2.
LHS – Singleton 10, Albers 11, Novzovsky 14, Speckmann 10, Charters 3.
IRISH GIRLS  56
LEWISTON    13
FCSH dominated just about every phase in a 56-13 dismantling of Lewiston on the road last Tuesday night.
The Lady Irish led 20-3, 35-5 and 51-8 at the quarter breaks and held Lewiston to just 5-of-33 shooting. FCSH finished 22-for-49 from the floor and were led by junior Abby Magdanz and sophomore Maggie Goltz, who scored 14 and 12, respectively. Goltz added six team-high rebounds, while senior Ashli Jordan led FCSH with four assists to go along with her nine points.  
Scoring vs. Lewiston
FCSH – Jordan 9 A. Magdanz 14, E. Magdanz 4, Goltz 12, Hill 8, Keithley 2, Heits 7.
LHS – Wehrbein 1, Arena 5, C. Howel (12) 1, C. Howell (14) 2, Withrow 2.