Alcohol suspected in Thanksgiving night two-car collision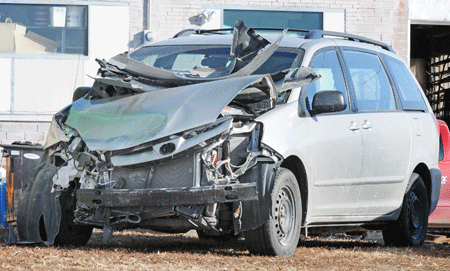 A Peru woman was cited Thanksgiving night for driving under the influence, after the vehicle she was driving collided with the above-pictured van at the intersection of 14th and Harlan Streets in Falls City.
Chelsea A. Allgood, 28, was arrested Thursday night and charged with DUI and violating a traffic signal, after her northbound 2011 Dodge Avenger collided with an eastbound 2007 Toyota Sierra driven by Peter A. Eaton, 58, of Falls City.
Officer Patrick Stamper with the Falls City Police Dept. responded to the accident shortly after 7 p.m. and upon speaking with Allgood, he allegedly noticed a strong odor of alcohol coming from her. Stamper stated Allgood later showed signs of impairment during field sobriety tests and requested Allgood to submit to a preliminary breath test, to which Allgood agreed. According to Stamper, the breath test showed above the .08 legal limit and Allgood was placed her under arrest. She was transported to Community Medical Center  for a chemical test and later booked in to Richardson County jail.
Allgood and Eaton each said they had a green light, while a witness stated the light for south and northbound traffic on Harlan St. was red. The determination was made that the light for Eaton's eastbound van was green.
Airbags deployed in both vehicles, but no injuries were reported.
Officers Charles DiGiacomo and James Baker with the FCPD also responded to the accident.