Tragedy avoided in afternoon accident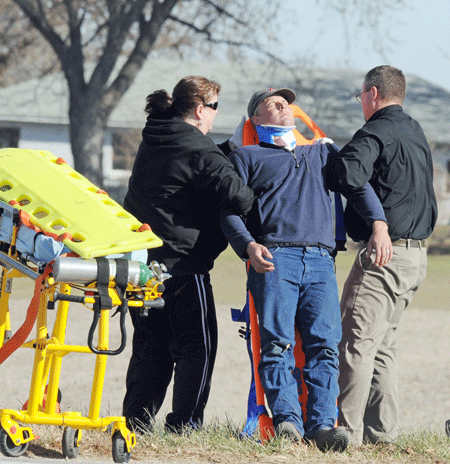 Tragedy was only narrowly avoided Monday afternoon when two Ford F-250 pickup trucks collided on Highway 73, less than one mile north of Falls City.
Paramedics, as well as officers from both the Falls City Police Dept. and the Richardson County Sheriff's Office, responded to a 911 call made from Merz Farm Equipment just after 1 p.m., moments after the collision occurred.
According to Jeremy Goldsberry of the FCPD, an eastbound 2008 F-250 driven by Christopher Wilcox, 39, of Falls City, entered Highway 73 from a stop sign and collided with a northbound 2000 F-250 operated by Stanley Duerfeldt, 56, also of rural Falls City. The airbag in Duerfeldt's vehicle, which was traveling at an estimated 60 miles per hour, deployed and he suffered only minor injuries. Neither Duerfeldt nor Wilcox were transported to the hospital by  ambulance.
A passenger, however, in Wilcox' pickup, Brian Gatz (pictured above, was taken to nearby Community Medical Center for treatment of a possible neck injury.
No citations had been issued as of 4 p.m. Monday, though the accident remained under investigation.