Wildcard berth revives SH season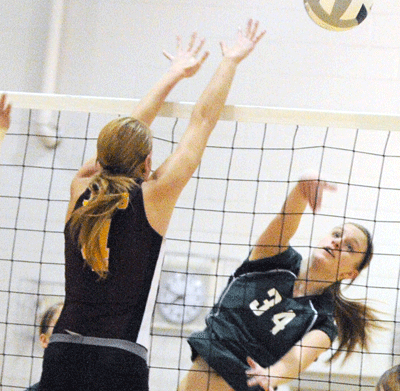 Falls City Sacred Heart's run towards a district championship was stopped last Tuesday night by this season's thorn-in-their-side, Sterling, but the Lady Irish's hopes for a state championship were kept in tact as they qualified for this weekend's state tournament in Grand Island.
Fifth-ranked Sterling defeated sixth-ranked SH in three sets, 25-23, 25-23, 25-19, in the Class D2-1 sub-district final at Johnson-Brock, then went on to a three-set victory over Hampton to claim the D2-1 district title Thursday.
Despite the loss, FCSH hung tight at fourth place in the Class D2 wild card standings and was officially announced as a qualifier Friday evening.
Sophomore Maggie Goltz' led the Lady Irish against Sterling with 13 kills, three solo blocks and four block assists, while senior Ashli Jordan finished with a team-high 17 digs. Junior Elizabeth Magdanz recorded 22 set assists to go along with 10 digs.
FCSH (26-5) is the No. 4 seed and will take on Stuart (24-6) Thursday night at 8:30 at Grand Island Northwest High School. Stuart won the Class D2-3 district with a four-set victory over Wynot last Thursday. Stuart has qualified for state in four consecutive seasons under head coach and Stuart alum Stacey Dexter, who has recorded 203 wins and 65 losses in her nine-year head-coaching career, all while at Stuart. This will be the sixth appearance at the state tournament for the Broncos, who have compiled a 1-6 record and advanced past the first round only once.
Stuart is led by their lone senior, Libero Samantha Sattler. Courtni Kunz, a 5-10 junior middle hitter, is a solid threat in the center, while juniors Brittany Hanzlik and Trina Swanson will hit from the outside. Hailey Paxton, a 5-8 sophomore, and Harlee Fischer, a 5-7 freshman, provide more attacking options for sophomore setter Jaden Schafer.
"We will have our work cut out for us the first round," Dexter said. "Sacred Heart is a very respectable team. We may be young, but I feel we have a great group of talented girls and it's been fun to watch them grow."   
It is the first state appearance for FCSH since 2009 and first under head coach Susan Witt, who holds a 65-27 record in three years with the school. FCSH has been to the state tournament eight other times, but this marks the first time the Lady Irish will play in the tournament's new host city, Grand Island. The event moved from Lincoln to Grand Island and Hastings in 2010, then made the switch exclusively to Grand Island last year.
FCSH has won state twice (Class D1, 1997; Class D2, 2006) and finished runner up twice (D2, 1998; D1, 2003).
A win Thursday night guarantees FCSH will be around for the weekend. Opposite them in their side of the bracket is undefeated and top-seeded Bertrand (31-0) who takes on eight-seeded Wallace (16-7) at 6:30 Thursday. The two winners from the Thursday night session play at 4 p.m. Friday at GI Senior High. Saturday's championship is scheduled for 11 a.m. at the Heartland Events Center. Saturday's third-place consolation is at 2 p.m. at GISH.
Thursday's morning session Grand Island CC includes: No. 2 seed Giltner (28-2) vs. No. 7 Leyton (30-2) and No. 3 Mead (26-5) vs. No. 6 Sterling (25-7).