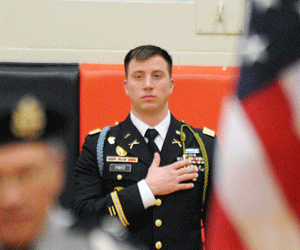 Capt. Dan Fritz. Photo by Jason Schock.
U.S. Army CPT Dan Fritz, Richardson County native and graduate of the United States Military Academy at West Point, NY, addressed a large gathering of students as well as the general public at the annual Veteran's Day program Monday morning at Falls City High School.
CPT Fritz, a 2003 graduate of Dawson-Verdon High School and the son of Noala and the late Lyle Fritz, said he's found the military to be "a great place," primarily because of the strong bonds created among those in uniform.
"There are some difficult days in the Army, but I can honestly say I enjoy my job," he said. "I enjoy the brotherhood that I have with every person in uniform. It's difficult calling the people I work with 'co-workers' because they're so much more than that.
"No matter where we came from, we are there for each other during the best of times and during the worst of times," he said.
 CPT Fritz' big brother, Jacob, was killed in 2007 while stationed in Iraq. Dan, who's now stationed at Fort Riley, KS, was a junior at West Point at the time.
"I lost my brother, but everyone has lost someone they knew. The unit that I'm currently with lost three soldiers during their last deployment to Afghanistan. But we all support each other," he said.
Love of the military is shared strongly by all in Dan's family. His father, Lyle, who died in June 2011, was a decorated Marine and Vietnam Vet, and his "little" brother, Ethan, is currently a member of the Corps at Texas A&M.
"The Army is full of amazing people," CPT Fritz, who served a 12-month deployment in Iraq, said. "Software designers, people have have their PGA Tour card, Wall Street investors, immigrants from all over the globe…I've met soldiers from Euroe, Africa, Pacific Islands – I've even met American soldiers from Iraq. I've met kids off the streets from New York City and men and women from small-town America – from Idaho, Kansas, Michigan, Iowa, the Dakotas and yes, even some from the great state of Nebraska."
After graduation from West Point, he was assigned to Ft. Benning, GA, where he attended the Basic Officers Leader Course and the Infantry Officer Basic Course, achieving the Commander's List for both courses. He then attended Ranger School, graduating on July l7, 2009. CPT Fritz was assigned to the 4th Armor Brigade Combat Team, lst Cavalry Division, at Fort Hood, TX. There he served as Rifle Platoon Leader, Scout  Platoon Leader, and Headquarters Company Executive Officer from July 2009 to May 20l2. After returning from the unit's deployment to Iraq, he attended the Maneuver Captain's Career Course. He again achieved the Commander's List, graduating in November 20l2. His next assignment was to the 4th Infantry Brigade Combat Team, lst Infantry Division, at Fort Riley, KS. He currently serves as an operations officer in 2-l6 Infantry and will take command of Chosen Company in January 20l4.
Shortly thereafter, in February, he will marry Haley Schwartz, of Omaha, at a ceremony at Offutt Air Force Base.
CPT Fritz's awards include: Army Commendation Medal (three awards), Army Achievement Medal (two awards), Iraqi Campaign Medal (one Campaign Star). His badges include the Expert Infantry Badge, Parachutists Badge, Air Assault Badge, Ranger Tab and the Gold German Proficiency Badge.
"The military is a place for people to build careers, the military is a place for people at a crossroads in life to take time to mature and find out who they really are," he said. "And it's obviously a place for people to serve their country and continue the legacy of those who have served before us.
"To all the generations that have served before me, I would like to thank you all for your service. To all those who support the troops, on behalf of all my brothers and sisters in arms, I would like to say thank you for your support. Thank you, and God Bless America."
The program was emceed by Sherry Maddox and attended by Falls City Public School and FC Sacred Heart School students. The Falls City Ceremonial Honor Guard posted and retired the National Colors and Pastor John Sipf of St. Peter's Lutheran Church gave the Invocation and Benediction. The FCHS Band, under the direction of Kent Stutheit, played "The Star-Spangled Banner" and "Main Street America." The FCHS Chorus, directed by Alisha Sutton, performed "America, The Beautiful."
A parade was then held down Stone Street in the afternoon and a dinner for veterans and spouses was held Monday night at the First United Methodist Church.