2013 Pioneer champs, FC Sacred Heart, set to tussle with Sterling in sub final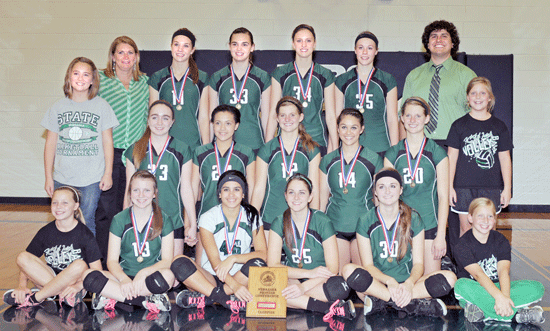 ---
Falls City Sacred Heart capped off its best stretch of the volleyball season Friday night with a straight-set victory over upset-minded Johnson-Brock to capture the school's first Pioneer Conference championship in 11 years.
That momentum carried the sixth-ranked Lady Irish, now 26-4 and winners of five-straight, into Tuesday's Class D2-1 sub-district final to be held at Johnson-Brock High School, where they will face fifth-ranked Sterling (23-7). SH advanced passed Lewiston, 25-9, 25-7, 25-12, Monday night in the first round, while Sterling cruised by Lincoln College View Academy, 25-11, 25-11, 25-15.
Tuesday's match, which is scheduled for 7 p.m., will be the third meeting this season between the two Pioneer Conference foes, with the Jets holding a 2-0 advantage. The winner advances to Thursday's district final versus the winner of the D2-2 sub-district final between ninth-ranked Exeter-Milligan (21-8) and Hampton (17-11). 
SH is currently fourth in the wild card standings, after receiving a big jolt from last week's conference tournament, and have a strong shot an at-large bid to the state tournament, should they lose to Sterling tonight or Thursday in the district final. Sterling, on the other hand, is currently seventh in the wild card standings, and may need to win out. Certainly all speculation, at this point, due to the handful of scenarios yet to be determined
Thursday's district championship information, as well as current wild card standings will be available at the NSAA's website – www.nsaahome.org – Wednesday morning.
SH cruised in the first set Friday night, 25-13, but J-B pushed them in sets two and three before being defeated 25-21 and 25-23.
The victory was a big exclamation point on a very successful week for the sixth-ranked Lady Irish, who defeated Class D1 No. 6 Friend, 25-23, 21-25, 25-22 and 25-15, Tuesday night in the semifinals. SH was a straight-set winner over Diller-Odell (25-13, 26-24) Monday night in the opening round.
The win ended an 11-year conference championship drought for the Lady Irish, who had not won the Pioneer tournament since 2002 when they defeated all-class eighth-ranked and previously unbeaten Freeman in straight sets. SH won three conference tournaments in a row between 1996 and 1998 and last appeared in the finals in 2009.
Johnson-Brock reached the championship match with a five-set upset of Sterling. J-B, which had lost all three previous matches this season against the Jets, dropped the first two sets, 14-25, 25-27, but rallied to win the final three, 25-23, 27-25 and 16-14.
Sophomore Maggie Goltz had a huge week for the SH, finishing with 40 kills on 92-of-103 attacks, including a 36-for-39 performance against Friend in which she finished with 19 kills and a .410 average. Freshman Haylee Heits was also superb at the net, as she finished the week with 36 kills and converted 93-of-104 attacks. Elizabeth Magdanz passed the ball accurately all week and the junior setter finished with 87 assists combined. Defensively, senior Ashli Jordan recorded 64 digs in the three victories.