Irish, Cougars 2nd round game could light up the scoreboard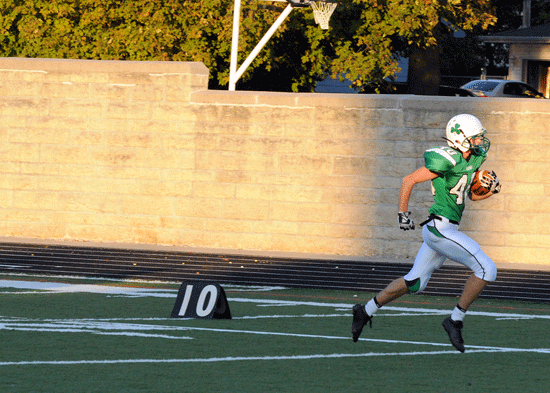 Senior Sean Strasheim and the Falls City Sacred Heart Irish faced very little opposition from Thursday's Class D-2 playoff opponent Kenesaw, as evidenced in this photo. FCSH defeated the Blue Devils 58-0, while Strasheim finished with two catches for 58 yards, including this 33-yard TD catch. Photo by Jason Schock.
Top-ranked Falls City Sacred Heart advanced to the Class D-2 round of 16 Thursday with a 58-0 victory over the two-win Kenesaw Blue Devils at Jug Brown Stadium.
Senior quarterback Chaz Dunn was nearly perfect throwing the ball, finishing the day 9-of-10 for 202 yards, five touchdowns and no interceptions. Dunn and senior Colin Niemeyer hooked up three times for touchdowns and Niemeyer finished the game with five catches for 130 yards.
Sawyer Kean, a junior, led the Irish ground attack with six carries, for 71 yards and one TD.
The Irish (9-0) first-team offense scored on all eight of their possessions and the junior varsity took over with less than two minutes left in the first half.
Kenesaw managed only 50 yards of rushing on 38 carries, good for 1.3 yards per attempt. SH turned the Blue Devils over three times, once via a fumble that was recovered by sophomore Henry Arnold and on interceptions junior Austin Malone and freshman Nick Aitken. Junior Zavan Kirkendall and senior Jarod Fiegener led the Irish defense with 11 and 10 tackles, respectively.
SH now turn their attention to Wednesday's second-round opponent, ninth-seeded Lyons-Decatur Northeast. The Cougars lack some size, compared to previous SH opponents, according SH head coach Doug Goltz, but their zone-read offensive attack will present a look the Irish have not seen this season.
"They aren't a big team, but tough have tough, strong kids who get after it," Goltz said. "Their offense will be difficult to stop and we'll need to tackle well in the open field."
Northeast, led by senior quarterback Alex Brehmer and junior running back Chevy Henneman, averages 51 points per game and have scored at least 60 points four times, including last week's first round victory at Meridian (60-24).
Brehmer, who Goltz said is the best signal-caller the Irish have seen, has passed for 711 yards and 16 touchdowns and only one interception on 37-for-62 attempts. He also has team-highs in yards rushing (1,667) and rushing touchdowns (26). Henneman has carried the ball 164 times for 1,196 yards and 18 scores. Dakota Riecken, a 6-foot, 170-pound senior, is Brehmer's main target when he throws the ball. Riecken leads the Cougars with 20 receptions for 385 yards and eight touchdowns.
All-stater Fiegener leads the Irish defense with 15 sacks and 27 tackles. Senior Brandon Schawang has a team-high 36 solo tackles and has recorded 19 tackles for loss, five sacks and two interceptions.
Brehmer, Henneman, Riecken also lead the Cougar defense. Riecken has tallied 160 tackles and two interceptions from his linebacker spot, while Brehmer leads the secondary with four interceptions and 54 solo tackles.
SH counters with an explosive attack that is averaging nearly 60 points (59.5) and 356 yards per game, and those totals are more flashy considering the junior varsity team has played the majority of the team's second halves. Dunn leads a more open offensive attack with 1,205 yards passing, including 25 touchdowns to just five interceptions and has completed 72 percent of his throws (74-of-102).
Niemeyer and Strasheim are Dunn's favorite targets and have combined for 17 TD receptions. Niemeyer leads the team with 29 receptions and 496 yards, while Strasheim has caught 18 passes for 261 yards.
Kean leads SH in carries (70), yards (744) and TD's (16). '
    
The Irish (9-0) and sixth-ranked Cougars (8-1) will begin at 4 p.m.