Sacred Heart advances to Pioneer Conference semifinals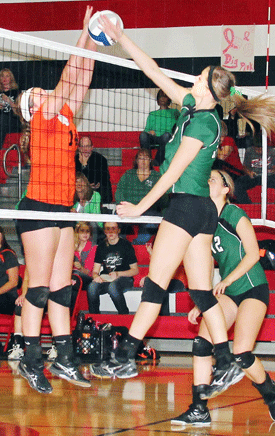 FC Sacred Heart's Maggie Goltz goes up for a kill Monday night during the Lady Irish's two set victory over Diller-Odell in the first round of the Pioneer Conference tournament. FCSH junior Abby Magdanz (12) is also pictured. Photo by Randy Gottula.
Falls City Sacred Heart defeated Diller-Odell in straight sets, 25-13 and 26-24, Monday night at Pawnee City in their first round match of the Pioneer Conference volleyball tournament.
The win sets up a semifinal match tonight at 7:15 in Humboldt against Class D1, fifth ranked Friend (22-3), who defeated Lourdes Central Catholic, 25-15, 25-27, 25-21, in their opening round. Friend is currently on an eight-game winning streak.
FCSH senior Emma Schock led the Lady Irish Monday night with 11 service points on 14-of-15 serves. Sophomore Maggie Goltz hit 21-for-26 with seven kills and two blocks, while freshman Haylee Heits converted 23-of-25 attacks with eight kills. Senior Ashli Jordan and junior Elizabeth Magdanz picked up 19 and 11 digs, respectively.
Humboldt-Table Rock-Steinauer defeated Southern, 25-20, 21-25, 25-19, their first match, but fell to top seed Sterling in two sets, 25-21 and 25-21.
Sterling will face Johnson-Brock at 5:45 tonight in Humboldt in the other semifinal match, after J-B defeated Pawnee City in two sets, 25-15 and 25-16.
The winners of tonight's semifinals will play for the conference tournament title Friday at 8 p.m. in Humboldt.
Tonight's semifinal losers play for third place Friday at 6:15 p.m., also in Humboldt.