Upset-minded Bulldogs put scare in Falls City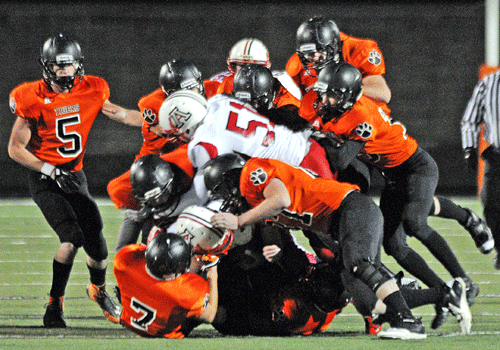 GANG-RELATED. Falls City's defense – here, eight of 11 Tiger defenders swarm the Auburn ballcarrier during a 22-16 Homecoming victory Friday at Jug Brown Stadium – ultimately saved the day, as well as the team's postseason hopes. FC, now 5-2 and a near-cinch to qualify for the playoffs for the second year in a row, trailed 10-0 early to the upset-minded and now 2-5 Bulldogs. FC trailed 12-8 at half, but held Auburn without a single first down in the second half and eventually clinched the win with a fourth quarter TD drive that spanned 66 yards in 12 plays and chewed up nearly seven minutes of clock. Junior Brenden Heckenlively capped it with a one-yard TD run. FC Thursday travels to 6-1 Lincoln Christian and must win to have any hopes of hosting a first-round playoff game on Halloween. Photo by Jason Schock.
Friday night's latest installment of the Falls City and Auburn gridiron rivalry could best be summed up as a tale of two halves. A slow start by the Tigers coupled with awful field position and a physical Bulldog team, made life tough for the orange and black.
FC eventually celebrated its Homecoming with a 22-16 victory, improving to 5-2 on the season, but managed all of four yards and a punt the entire first quarter and two of the Tigers' other three first half drives resulted in a punt and a turnover.
FC trailed 10-0 midway through the second quarter and seemed shell-shocked by the Bulldogs, who came out and hit FC in the mouth early. Twelve minutes into the game and it was pretty evident this was not the 2012 Auburn team FC handled, 35-0. Plus, the nearly full moon over Jug Brown Stadium provided another reminder that when the Tigers and Bulldogs tango, expect the unexpected.
The Tiger defense clamped down on Auburn and held them without a first down the whole second half, which FC head coach Darin Fritz said was the difference in the game.
"I just thought we played really well defensively. Offensively we were good enough to win, but sloppy. I was really proud of the guys in the second half. We made some adjustments and they came out and played hard."
FC held the Bulldogs to 87 yards on 34 carries. Auburn passed for two scores and tallied 93 yards, but 61 yards happenedon on one play –  a third quarter touchdown reception by Reason Garcia that tied the game at 16-16.  
Chase Thompson and Jack Hartman finished with eight tackles each to lead FC. Jordy Stoller had a team-high four solo stops, while Reese Hogue, Tucker Merz and Brenden Heckenlivley each finished three solo tackles.
The Tiger offense hung in there after some early struggles and grinded out three long scoring drives, including FC's longest drive of the season: a 12-play, 66-yard scoring drive that chewed up nearly seven minutes of the fourth quarter and acted as a knockout punch, with junior Brenden Heckenlively providing the uppercut with his one-yard game-winning TD run that put FC up for good, 22-16.
FC used an eight-play, 73-yard drive to score their first touchdown and then came back in the third quarter with a six-play, 67-yard drive to go ahead 16-10. FC junior running back Jordy Stoller put the exclamation point on each of those drives, scoring on a 15-yard run in the second quarter and then breaking free for a 47-yard touchdown scamper. Stoller led the Tigers with 110 yards rushing on nine carries. FC's backs combined for 46 carries and 296 yards.
Fritz said the Bulldogs made it tough on them and credited them for their effort.  
"We couldn't get anything going because of the physical play of the Bulldog defense," Fritz said. "They definitely took us out of our game offensively in the first half. Auburn is a team that is improving every week. We thought we could handle them, but  knew we would have to play well to win."
The Tigers turn their attention to Thursday's regular season finale in Lincoln against Lincoln Christian, which suffered its first loss of the season last Friday to Syracuse. The district-champion Rockets rushed for 345 yards and had a pair of 100-yard rushers in the 42-21 win.
Christian remains a top-10 team and rightly so, as they have talented athletes at key positions, starting first with 6-5 senior quarterback Logan Power. Power rushed for 115 yards and three touchdowns against the Tigers last year. Senior wideout Leighton Chicoine and senior running back Ben Plambeck are Power's two biggest threats, but also keep your eye out for Jared Bubak, a 6-foot-4, 210-pound sophomore.
"Their level of execution is really good, coupled with the fact that they have really good athletes at crucial positions," said Fritz about the 6-1 Crusaders. "They can be a matchup nightmare. We need to be physical and mistake free this week."
Kickoff Thursday is at 7 p.m. at Beechner Field, located at Lincoln High,  2229 'J' St.