Lady Tigers finish 20-12, 2nd at districts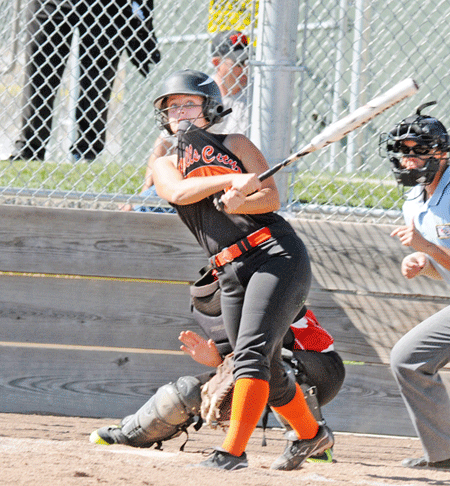 Falls City High School senior Kirstyn Buchholz drills a home run to left field during her team's 8-0 win over Johnson County Central during last Friday's C1 District Tournament at Syracuse. The Tigers eventuall lost to state-bound Southern to finish the season 20-12 and runner-up in the district. Photo by Jason Schock.
Falls City High's season came to end Friday afternoon in Syracuse with a 3-0 loss to ninth ranked Wymore Southern in the Class C-1 district championship. The Lady Tigers, who finished the season with a 20-12 record, went 3-2 at the district tourney with a pair of wins over Johnson County Central and one over Syracuse. FC head coach Jason Bredemeier called the 2-1 win over Syracuse on their home field the "signature win of the season."
Leading up to the district tournament, all signs pointed toward a FC-Wymore meeting in the district championship and the two teams held up their ends of the bargain. FC defeated JCC, 9-1, in their opening round game and then held off Syracuse in a thriller, 2-1 in the second round to set up the first of two games with top seeded Wymore, who reached the district championship series with FC with a 5-4 win over Freeman, after they enjoyed a first round bye.
Wymore pitcher Ellie Edmond proved to be the difference maker in the two games Friday against FC, as she held the Lady Tigers to three hits in two games and led the Raiders to two shutout victories, 8-0 and 3-0. It was the third district championship appearance for the FC softball program, which just finished its 17th season and the 3-2 record at districts pushed FC to 20 wins and marked their fifth winning season in a row.
"I am incredibly proud of our team," Bredemeier said. "The girls worked extremely hard all season long. We didn't reach our ultimate goal of going to state, but twenty wins and a second place finish at districts is a great season."
Noteworthy…FC senior pitcher Kirstyn Buchholz finished as the school's single-season leader in strikeouts with 155. Buchholz passed Claire Poppe's total of 108 during the Plattsmouth Invitational back on Sept. 21 and continued to add to her single-season mark…Junior Sydney Armbruster finished with a .430 batting average, which is good for fourth all-time. Armbruster, who increased her average by nearly 70 points from her sophomore to junior year, finished with team-highs in runs scored (35), hits (43), plate appearances (114) and on-base percentage (.496)…senior Brooke Scheitel set the single-season record for triples with seven, passing Carla Hunzeker's total of six from the 2000 season. Scheitel also led the team with 33 RBIs and a .600 slugging percentage.
FC        8
JCC        0
Brooke Scheitel went 4-for-4 at the plate with a pair of doubles and two RBI's. Kirstyn Buchholz also drove in a pair for the Tigers, while also striking out six JCC batters to earn her 20th victory of the season.
 
FC        2
Syracuse    1
FC scored first against Syracuse when Sydney Armbruster's RBI double to left field in the top of the fifth inning scored Avery Scott from first base. Scott had just entered the game to run for Tayten O'Brien, who reached on an error.
Shiloah Feighner led off the top of the seventh with a walk, then moved to second base on a sacrifice bunt by Haley Cochran. O'Brien stepped in and hit a ground ball to third, which was played back to first base for the force out and fielder's choice, but in the mean time, around came Feighner from second to score the eventual game-winning run, as Syracuse went down in order in the bottom half of the seventh.
JCC    1
FC        9
FC jumped out to an early lead on JCC by scoring five runs in the first three innings/ A two-run triple by senior Scheitel and a two-run double by Sydney Armbruster during the second inning fueled the Lady Tiger's offense early.
Buchholz got the win for the FC thanks to six strikeouts. Buchholz allowed one earned run on five hits and no walks over six innings.