Lady Tiger softball teams caps off 2-0 day with 2-1 thriller over Syracuse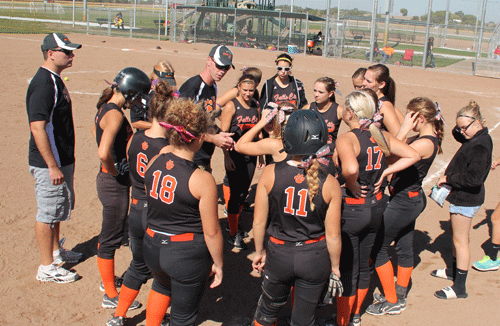 Falls City High head coach Jason Bredemeier talks with his team following the Lady Tigers 9-1 victory over Johnson County Central in the 1st round of the district tournament in Syracuse. Photo by Randy Gottula.
Falls City and Syracuse met twice during the regular season and were separated by a one run differential in 15 innings of softball.
Thursday's second round game between the Lady Tigers and Rockets was no different, but favor was on FC's side, as the Lady Tigers held off Syracuse 2-1 in the Class C District 1 tournament in Syracuse.
FC scored first in the top of the fifth when Sydney Armbruster hit a RBI double to left field, which scored Avery Scott from first base. Scott had just entered the game to run for Tayten O'Brien, who reached on an error. 
Syracuse answered in the bottom of the sixth with one run, but back came FC.
Shiloah Feighner led of the top of the seventh with a walk, then moved to second base on a sacrifice bunt by Haley Cochran. O'Brien stepped in and hit a ground ball to third, which was played back to first base for the force out and fielder's choice, but in the mean time, around came Feighner from second to score the eventual game-winning run, as Syracuse went down in order in the bottom half of the seventh.
The win was an exclamation point on a 2-0 day for FC, which finds itself two wins away from their second-ever state tournament. The Lady Tigers defeated Johnson County Central, 9-1, in their opening round game.
FC will have to defeat ninth-ranked Wymore Southern (21-4) at noon on Friday to reach the championship series of the double-elimination tournament. The championship is scheduled for 3:30 with a second game scheduled for 5:15, if both teams in the championship series have a loss.
In other district games…Wilber-Clatonia was defeated by Freeman in their first round game, but then fell to Southern in the second round, setting up an elimination game at 3:30 Thursday. Syracuse also fell to the 3:30 elimination game where they faced Freeman.