Lady Irish, 16-3, brace for strong stretch run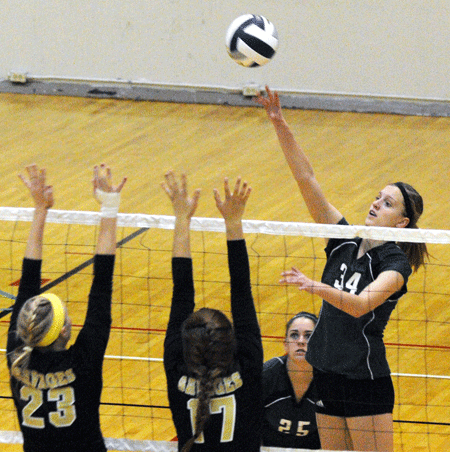 FC Sacred Heart sophomore Maggie Goltz records one of 15 kills, as senior Emma Schock (25) shores up the defense, last week in a hard-fought five-game home loss to Savannah, MO. FCSH was down 0-2, but squeeked out a 26-24 victory in the third game and then tied it up with a 25-13 blowout in the fourth. The Savages, though, edged the Lady Irish 16-14 in the decisive fifth. The loss was only FCSH's third this year and snapped a seven-match winning streak. Photo by Jason Schock.
The FC Sacred Heart volleyball team split its two matches last week, easily defeating conference foe Lewiston 25-8, 25-16 and 25-10 last Tuesday on the road after suffering its first home loss and third overall last Monday against visiting Savannah, MO.
The Lady Irish entered the week riding a seven-match winning streak, dating back to Mudecas. FCSH is now 16-3 and rated No. 5 in Class D2.
Savannah jumped out in front by winning the first two sets 25-18 and 25-19, but the Lady Irish battled back to take a close third set, 26-24, and then cruised in the fourth, 25-13, before falling in a highly contested fifth set, 16-14.
The Savages, which returned four starters from last year's district championship team, are currently 18-2-2. Fourteen-year veteran coach Deb Couldry, winner of six district titles and five conference crowns, told the St. Joseph News-Press last weekend "this is the best group we've had since I've been here."
High praise – and it says something about FCSH, too. Because the Lady Irish gave Savannah all they wanted.
Sophomore Maggie Goltz led the Irish at the net in both games with 15 kills against Savannah and 12 more against Lewiston. Goltz hit .385 with five blocks Tuesday night. Senior Rachel Parrish and junior Abby Magdanz each added six kills against Lewiston, while senior Ashli Jordan recorded 10 digs and three kills. Elizabeth Magdanz had 21 assists and three kills Tuesday after serving 16-for-16 with two aces and passing for 33 assists in Monday's home loss.  
Abby Magdanz and freshman Haylee Heits finished with 13 and 10 kills, respectively, against Savannah, while Jordan finished 24-for-25 serving with two aces.
The Lady Irish, now 16-3, are home Thursday, facing 6-11 Southern. As it stands right now, the Raiders are the last team with a losing record Sacred Heart will face during the 2013 regular season.
Next Tuesday, a triangular at Johnson pits the Irish against the 11-6 Lady Eagles and 10-6 Humboldt-TR-S. Then Thursday is the final home date of 2013, as FCSH hosts 8-8 Pawnee City at Prichard Auditorium. The Irish travel to 12-7 Rock Port, Mo., Oct. 21 and the next night go to Sterling to face the 13-3 Jets and 9-7 Nebraska City Lourdes. The Pioneer Conference Tournament is Oct. 28 through Nov. 1.