A new take on 'Happy Hour'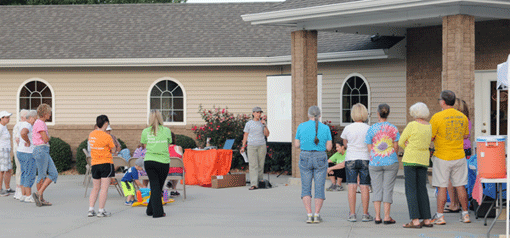 Linda Santo, middle, gives a brief presentation on the "Take Shape For Life" wellness program one evening last month at the office building of Julie Bauman, 2020 Harlan St. Thursday, Sept. 12, was the first official "Healthy Happy Hour," and participants joined for a one-mile walk at the conclusion of Santo's presentation. Photo by Jason Schock.

Demographics be damned – the young, the old, the rich, the poor, the fat, lazy, sane or crazy, everybody likes Christmas best. So say the polls, scientific or otherwise, not to mention the concrete evidence: My eyes told me Christmas trees were on display in a Falls City store last month. Makes sense, as there were only a measely 90 shopping days left until Christmas. Now there are just 77 shopping days, or 76 game-planning days, depending on your gender. (Nope, I didn't leave with a tree).
Seventy-some days and our troubles will be miles away. Can't wait? Happy Hour starts at 4.
Yes, the votes are in and we say Christmas is our favorite holiday by a landslide, and a large contingency start looking for Santa Claus as early as September. Is that supposed to impress the group seeking Happy every day at 4, 365 days a year? Well, no.
Of course Happy Hour isn't a holiday, but it has been celebrated in earnest throughout this country since its inception about 100 years ago and the strange days of prohibition. "Happy Hour," as I understand it, started when people would meet at a home or speakeasy and consume then-illegal drinks before going out to dinner. Today, it's not quite so glamarous and much less risky – hit Happy Hour and you save a quarter on a beer and maybe get a 13th chicken wing or whatever. But, hey, Oscar Wilde said "work is the curse of the drinking class," and a quarter's a quarter, so keep 'em coming.
Oscar Wilde also said "moderation is a fatal thing – nothing succeeds like excess." That was before he died at 46, flat broke. The truth is, of course, that there isn't always sunshine in a pub, Happy didn't walk through that door yesterday and probably isn't coming in today and if you never miss Happy Hour, "77 shopping days left" may not apply to you. Santa Claus is predictable – but the Grim Reaper is not.
So, in that vein, to celebrate the very first "National Discover Your Optimal Health Day" and September as "National Childhood Obesity Awareness Month," Linda Santo, Marketing Coordinator at Community Medical Center and a certified "health coach," hosted a "Healthy Happy Hour" at Julie Bauman's CPA firm at 2020 Harlan St. After giving a brief presentation on the "Take Shape For Life" wellness program, healthy snacks and drinks were served and a group of 15 or 20 people took a brisk one-mile walk. It was one of 906 such events held throughout the country.
"Two-thirds of the US population is overweight or obese," Santo said. "Americans are at a higher risk of disease when overweight and obese. It is an epidemic. We see this trend now with our children. The first step is getting to your healthy weight, then followed by creating overall health, learning and living the Habits of Health.  Replacing bad habits for good habits," she said.
The Habits of Health are Healthy Eating, Healthy Activity and Healthy Sleep. The Take Shape For Life plan attempts to help you:
– Create health in your life through good nutrition, proper sleep, ample exercise, and successful stress-reduction techniques.
– Transform your world into a supportive environment where healthy habits can grow and thrive.
– Identify unhealthy patterns and triggers, and choose to stay true to your health goals.
– Cultivate the Habits of Health—step-by-step, one day at a time—to replace those habits of disease that make us ill, overweight, and unhappy.
– Grow a healthier you with techniques proven to be successful by people who have maintained a healthy weight for years after going on the Program.
"People think they can't change, but they can," Santo said, noting that she started TSFL 18 months or so ago and is healthier now than perhaps any other time in her adult life.
"Creating a life in balance.  Learning and implementing healthy nutrition, some sort of movement or activity, proper sleep, dealing with stress and monitoring your health by seeing your doctor, how you feel, your weight and energy level. TSFL is not a diet. It's not Take Shape for a month or a year… It's Take Shape For Life," she said.
For more information on TSFL, contact Santo at 402-245-0645 or via email: thegoodlifelinda@yahoo.com