Class D2 No. 1 SH Irish roll again: 64-6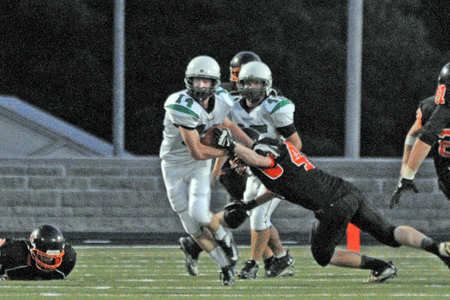 FC Sacred Heart's Austin Malone breaks free from the tackle attempt by a Diller-Odell defender in the 1st quarter of the Irish's 64-6 Homecoming victory. Malone, a junior, returned the punt 65 yards for a touchdown to put FCSH ahead 14-0. Through four games, Malone is averaging 19.6 yards per return with a pair of TD's. Photo by Jason Schock.
Falls City Sacred Heart's staunch defense held true to form again Friday night to lead the Irish to an easy 64-6 Homecoming victory over Diller-Odell. The top-ranked team in Class D2 held the Griffins to 39 rushing yards on 31 attempts and scored the game's first 56 points, as they piled up 300 rushing yards for the first time this season.
Through four games, FCSH has forced 27 punts and eight turnovers, allowed only 255 yards rushing on 139 attempts and given up just two first-half touchdowns. Twenty of the 32 opponent's points have come against the junior varsity players in the fourth quarter.
This trend was evident again Friday night, as D-O managed nine possession in the first half which resulted in six punts, a fumble and an interception that was returned for an Irish touchdown. FCSH junior Austin Malone returned one of the punts 65 yards for a score and took another 38 yards to the D-O 7-yard line where he fumbled it. After a scrum, Irish senior Sean Strasheim recovered the football in the end zone for another FCSH touchdown.
Subsequently, the Irish first-string offense had the ball only four times in the first half. They managed to score touchdowns on three of those possessions, however. Irish senior quarterback Chaz Dunn scored his fourth TD of the season on a five-yard run with 6:16 to play in the first quarter. The other two offensive scores came via junior tailback Sawyer Kean, who scored on runs of 30 and four yards, respectively, in the second quarter. Kean added his team-high tenth touchdown of the season when he scored from 19 yards out with 6:40 left in the third quarter to put FCSH ahead 48-0. He finished with 11 carries for 138 yards and the three scores.
Senior Jarod Fiegener and the Irish defense were the story, though. Fiegener's five tackles for loss resulted in minus-37 yards for the Griffin offense. In D-O's final possession of the first half, Fiegener sacked the Griffins' Austin Vitosh three-straight times for minus-26 yards. The clock ran out on D-O, but they were most likely saved by the bell, as Fiegener and company were at the top of their games.
Fiegener, Dunn, and fellow seniors Daniel Keithley and Colin Niemeyer each recorded three solo tackles, as did junior Zavan Kirkendall, who led the Irish with 14 tackles. Kirkendall also finished with three tackles for loss. Keithley, who forced the Griffin fumble late in the second quarter, finished with two tackles for loss, including one quarterback sack. All told, Gang Green's defense tallied 14 tackles for loss, resulting in a negative 70 yards for D-O.
All-State kicker, senior Yianni Haralabids, connected on 6-of-7 point-after attempts and averaged nearly 50 yards per kick on his 10 kickoffs. Haralabidis, who was crowned Homecoming King following the game, has connected on 25-of-28 PATs this season, while averaging 49.1 yards per kickoff.  
Offensively, sophomore Henry Arnold finished with six carries for 37 yards and a TD, while Malone ran three times for 42 yards and a score. Senior Brandon Schawang carried three times for 28 yards from his fullback position and Niemeyer hauled in both of Dunn's completions for a total of 25 yards.
The Irish travel to Meridian Friday for a 7 p.m. game with the 2-2 Mustangs. Meridian started the season with an upset victory over Lawrence-Nelson, who are currently 3-1 and listed as a contender in Class D2. 
                                 Team Stats
                              D-O              SH
First downs            13                17    
Rushing              31-109         30-300
Rushing lost           70                 0
Rushing net           39               300
Passing              19-28-1          2-6-0
Passing yds.          126              25
Fumbles lost           1                 1
Punts-ave.           7-31.0         1-36.0
Punt Returns          0             7-117
Kickoffs-ave.        2-42.5        10-49.7
Kickoff Returns      10-46         2-12
Total return yds.       46           145
Penalties-yds.        6-38          4-46
Total offense          165           325
——
INDIVIDUAL STATS
Rushing
FCSH — Ahern, 2-10; H. Arnold, 6-37, TD; Dunn, 4-24, TD; Kean, 11-138, 3 TD; Keller, 1-21; Malone, 3-42, TD; Schawang, 3-28.
Passing
FCSH — 2-6-0, 25 yds.
Receiving
FCSH — Niemeyer, 2-25.
PAT's
FCSH — Haralabidis, 6-7.
Kickoffs
FCSH — Haralabidis 10-497, 49.7 avg.
Kickoff Returns
FCSH — Ahern, 1-12.
Punts
FCSH — Ramer, 1-36.
Punt Returns
FCSH — Malone, 2-103, TD; Arnold, 1-14.
Takeaways
FCSH ­— Scheitel, Int. returned 9 yds., TD; Strasheim, Fum. recoverd, returned 7 yds., TD.
Tackles
(unassisted-assisted)
FCSH — Ahern, 1-1; Aitken, 1-0; H. Arnold, 2-1; S. Arnold, 0-1; Bird, 1-0; Dunn, 3-0; Fiegener, 3-8; Jorn, 1-0; D. Keithley, 3-2; E. Keithley, 0-2; Keller, 0-2; Kirkendall, 3-11; Malone, 1-4; Martin, 2-1; Mullins, 1-0; Niemeyer, 3-3; Schawang, 2-6; Scheitel, 1-5; Witt, 1-0..
Sacks
FCSH — Fiegener, 3; D. Keithley, 1; Scheitel, 1.
Tackles For Losses-Yards Lost
FCSH — Fiegener, 5-37; D. Keithley, 2-14; Kirkendall, 3-7; Martin, 1-1; Niemeyer, 1-3; Scheitel, 2-8.