2013 Fair — "Garden of Dreams"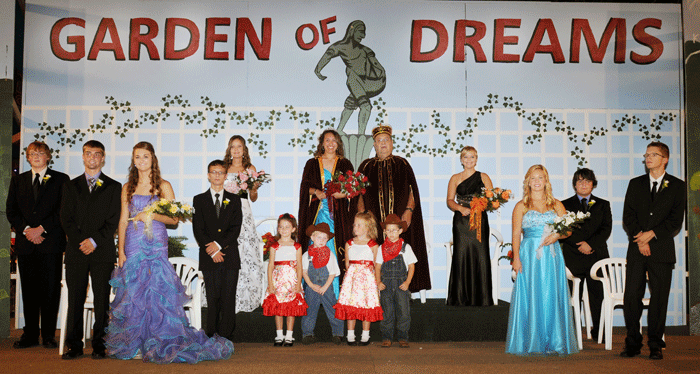 KING JON'S COURT: 2013 Richardson County Fair Royalty, front row, from left: Junior Attendants Lillian Jo Bowen, Caleb Ryan Holley, Kenadi DeAnne McClarnen, and Jay Travis Jackson; back row, from left: Jesse Anderson, Mitchell Harling, Rachel Parrish, Tulsa Otto, Casey McNealy, Queen Lindsay Harlow, King Jon Larson, Haley Workman, Kasey Kappel, Anthony Knudson and Lance Lewis. Photo by Jason Schock.
The Richardson County Fair at Humboldt, with a great nod from the weatherman, opened its three-day run with a super "Garden of Dreams" coronation program Wednesday night before a packed audience on the Square.
State Senator Dan Watermeier crowned Lindsay Harlow, an HTRS junior, Queen of the Fair, and Jon Larson, Humboldt, King.
Lindsay is the daughter of Dave and Kathy Harlow of Dawson. She has had and is having a very busy high school career. Lindsay's activities include golf, basketball, Youth Mentoring, Youth Leadership, National Honor Society, band, jazz  band, 4-H and American Legion Junior Auxiliary. In the most popular queen contest ever, she amassed a total of l78, 572,544 votes.
King Jon is an Army veteran, serving in Korea and Germany. He worked 34 years in law enforcement, 26 of those in Richardson County. In l996, Jon underwent  a heart transplant.
County Judge Curtis Maschman was master of ceremonies for the "Garden of Dreams" coronation program.
Promptly at 7:30, the Presentation of Colors was by four members of Sons of the American Legion, #269 Squadron.
Mary Eickhoff and Carla Kage sang "The Star Spangled Banner" and the program was underway.
The Humboldt Chamber of Commerce welcome was by its president, Mark Joy, who also presented Harriett Leech Smith as "Woman of  the Year."
Following the rendition of "Home," by HTRS fifth graders, directed by Sarah Volker, Council member Crystal Dunekacke presented keys to the city to last year's royalty Toni Kean and Ken Kuhlmann.
The HTRS jazz band played 'The Beautiful" for the processional.
The junior attendants included: Lillian Jo Bowen, Caleb Holley, Jay Jackson  and Kenadi McClarmen.
The queen candidates and their escorts followed. They were:
Lindsay Harlow, escorted by Jesse Dean Anderson, an HTRS senior. Casey Jo McNeely (l6l,l40,l85 votes), senior at HTRS. Her escort was Tulsa Kenneth Otto, HTRS senior. Haley Ann Workman (94,l76,08l votes), a senior at HTRS. She was escorted by Anthony Vincent Knudson, HTRS senior. Rachel Parrish (66,20l,20l votes),  senior at Falls City Sacred Heart. Mitchell James Harling, Falls City High senior, escorted Rachel. Kasey Beth Kappel (48,040,226 votes), a junior at HTRS. She was escorted by Lance Martin Lewis, a HTRS senior.
Following the coronation ceremony, the program included:
Charles Zulek, "Homestead Story."
Four highly entertaining numbers—"Cold Water," "Tumblin' Weed," "Sha-Boom" and "I Feel Fine"– by the Homesteaders Trio, Ben Steffen , Michael Stinman and Russell Workman.
"Green Acres," by Randi Edmonds and Frank James.
"Fields of Gold," presented by the HTRS show choir.
Grand finale, with Mary Eickhoff and Carla Kage singing "This Land Is Your Land."
Fair parades, with their high school bands, floats and other entries, were held at ll o'clock Thursday, Friday and Saturday.
Free acts on the Square stage were presented each day at 2 and 8 p.m.
Thursday evening, preceding the performance, Ak-Sar-Ben l00 Year Pioneer Families Awards were presented to Loretta Lee Stevens, Falls City, Darrel Koso, Rulo, and Loren Tupa, Humboldt.
Livestock judging was held each afternoon and photography, flower, textiles, crafts and ag products exhibits filled the Ag Building, were judged, and drew  crowds throughout the three days.
D. C. Lynch Spectacular Shows, along with food stands, surrounded the Square and reportedly enjoyed good runs throughout the Fair.
(The above article was taken from stories in the Humboldt Standard.)