Irish cruise past Indians in opener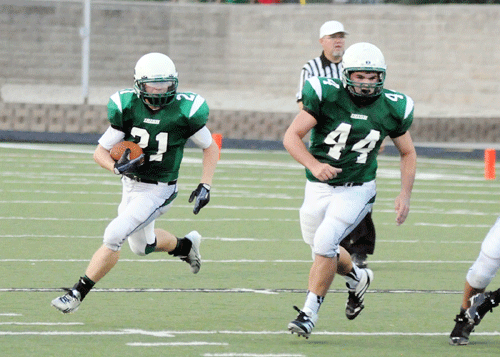 FCSH junior back scored Sawyer Kean follows senior Jarod Fiegener to daylight. Kean scored on runs of three and 18 yards in the first half and then opened the second half by returning the kickoff 77 yards for a touchdown. He finished with 53 yards on eight carries. Fiegener, seen here on offense, did most of his damage against Pawnee City on the defensive side of the ball, where the 220-pounder moved from linebacker to defensive line. He finished with 10 total tackles, the sack, a fumble recovery and three tackles for losses. FCSH built a 42-0 lead by halftime and 67 of Pawnee City's 208 offensive yards came on one fourth quarter drive against the Irish JV. Photo by Jason Schock
The Falls City Sacred Heart football team had little trouble getting out of the gate 1-0 on the 2013 season, as the Irish scored on five consecutive first half offensive possessions, added another defensive touchdown and took the opening kickoff of the second half back for a score in a 52-8 season-opening victory over Pawnee City Friday at Jug Brown Stadium.
FCSH, now rated No. 1 in Class D2 by the Omaha World-Herald after Giltner's season-opening loss, got stopped on downs on its opening possession and it was a scoreless game for more than 10 minutes. But when senior Chaz Dunn hit a wide-open Colin Niemeyer for a 62-yard TD up the east sideline into the north end zone, with 1:41 to play in the first quarter, the flood gates were officially open. Senior Yianni Haralabidis, who was a perfect 7-for-7 on PAT kicks and added a 37-yard field goal in the fourth quarter, kicked the first of likely many extra points this season to make it 7-0 FCSH.
From there, things quickly unraveled on the visiting Indians. Sacred Heart senior Jarod Fiegener pounced on a PC fumble moments later and it took SH one play to capitalize, as Dunn carried it from the 10. In a mere 12 seconds of game clock, a zero-zero tie was a 14-0 Irish advantage.
A Pawnee City three-and-out set up a four-play (the longest of the night for the Irish varsity), 55-yard Irish scoring drive, capped by a three-yard TD run from junior Sawyer Kean, coming with 9:10 to play in the first half.
Seconds later, the Indians coughed it up for a second time on their next drive and junior Zavan Kirkendall, who led the defense with 13 tackles, scooped it up and raced 12 yards for FCSH's fourth score.
Another Indian punt resulted in another one-play scoring drive for the Irish, as Dunn (five carries, 90 yards) busted loose on a 60-yarder with 4:03 remaining in the half and it was 35-0.
On PC's ensuing possession, Kean recovered yet another Indian fumble, taking it to the Pawnee City 21. He then rewarded himself and his team with an 18-yard touchdown run, finishing the first-half scoring at 42-0.
Kean (eight carries, 53 yards) kept warm during the intermission.
He took the opening kickoff of the second half 77 yards for paydirt, giving his team a 49-0 lead and ushering in the junior varsity.
Pawnee City got its points seconds into the fourth quarter on a seven-yard run by Scott Borcher, who then threw the two-point conversion Ted Gyhra.
Haralabidis kicked his 37-yard field goal with 7:11 to play in the game.
FCSH stays home this week, hosting 0-2 St. Joseph (MO) Christian Thursday night at Jug Brown Stadium.
Team Stats
                    FCSH       PC
First downs    12          15
Rushing        24-186    48-174
Rushing lost    5           25
Rushing net    181        149
Passing         2-4-0       6-10-0
Passing yds.    83        59
Fumbles lost    0          2
Punts-ave.    1-27.0    5-29.8
Punt Ret. Yds.    14    0
Kickoffs-ave.    9-49.1    2-27.5
Kickoff Ret. Yds.    77    30
Total return yds.  103    30
Penalties-yds.    3-25    6-40
Total offense    264    208
INDIVIDUAL STATS
RUSHING
    FCSH — Arnold, 4-13; Dunn, 5-90, 2 TD; Kean, 8-53. 2 TD; Kirkendall, 2-2; Malone, 4-4; Schawang, 1-19.
Passing
    FCSH — Dunn, 2-4-0, 83 yds., TD.
Receiving
    FCSH — Kean, 1-21; Niemeyer, 1-62, TD.
Field Goals
    FCSH — Haralabidis, 1-1 (37 yds.)
PAT
    FCSH — Haralabidis, 7-7.
Kickoffs
    FCSH — Haralabidis, 9-49.1 ave.
Kickoff Returns
    FCSH — Kean, 1-77, TD.
Punting
    FCSH — Ramer, 1-27.0.
Punt Returns
    FCSH — Malone, 2-14.
Fumble Recoveries
    FCSH — Kean, 1; Kirkendall, 1-12, TD.
Tackles
(unassisted-assisted)
    FCSH — Dunn, 1-1; Fiegener, 4-6; Kean, 1-1; Keithley, 3-6; Kirkendall, 4-9; Malone, 2-4; Mullins, 0-2; Niemeyer, 4-5; B. Schawang, 5-6; Scheitel, 2-6; Strasheim, 1-4; Witt, 0-4.
Sacks
    FCSH — Fiegener, Schawang, each 1.
Tackles For Losses
    FCSH — Fiegener, 3-5; Schawang, 2-7; Scheitel, 2-12; Strasheim, 1-1.