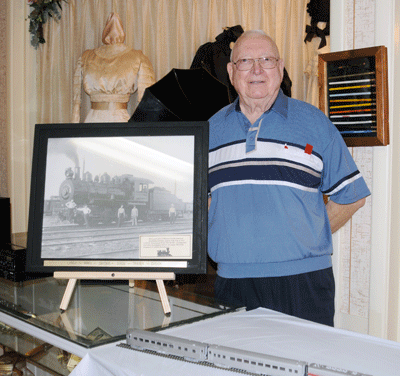 Bob Ferguson, "Falls City Railroading" presenter, with a photo of the first Missouri Pacific Railroad yard crew in l909. The crew included: Walter Marx, yardmaster; Snyder, switchman; Dixon, fireman; Thayer, engineer; Lynch, switchman. The portion of the model train at the bottom of the photo is one of two models that were exhibited. Photo by Bill Schock
Bob Ferguson, a Missouri Pacific Railroad employee for 43 years, who made a presentation of  "Falls City Railroading" at the annual membership meeting of the Richardson County Historical Society Aug 24, has pursued an vocation of railroad history and especially Missouri Pacific history.
Ferguson, who began his long railroad career in l949 as a Missouri Pacific call boy, retired in l992, as did the railroad's local existence. In his presentation he traced railroad history in Falls City from its early days. Excerpts from his talk follow:
"The first inkling of Falls City's reputation as a 'railroad town,'" he said,  "began l2 years after Falls City became Falls City on June 7, 1869, when an election was held in Richardson County to vote for $250,000 in bonds at 8 percent to aid in construction of a railroad in Richardson County and Falls City. The vote barely carried, 576 to 570, but no contractors were interested."
To read the full article please sign-up for or purchase the Journal's new e-edition.
The E-edition is FREE with your 1-year paid subscription to the print edition of the Falls City Journal. If you are not a subscriber to the print edition, you can purchase a 1-year subscription to the E-edition for only $25 via Pay Pal. A Pay Pal account is not needed to purchase and security is guaranteed.
The E-edition is an exact replica of the printed edition and will be available each and every Tuesday morning! Users will not need to wait on the Journal to arrive in the mail and can access all our weekly paper has to offer 24 hours a day, 7 days a week from a catalogue of E-editions dating back to January 6, 2011.
Instructions for registering. (Please note the two options)
1.) Those with paid subscriptions to the print edition of the Journal please click HERE. A new window will open and you will be redirected to the e-edition application. Please read the instructions at the top of the page before filling out the registration.
or
2.) For those looking to purchase the E-edition, on the left side of the home page click on the blue 'Create an account' link. You will be taken to a new page where you will need to fill out the necessary information. Select "E-edition" under the subscription plan and you will be directed to the Journal's PayPal account where you will pay for your subscription. After payment you will be directed back to the site to log-in and begin use.