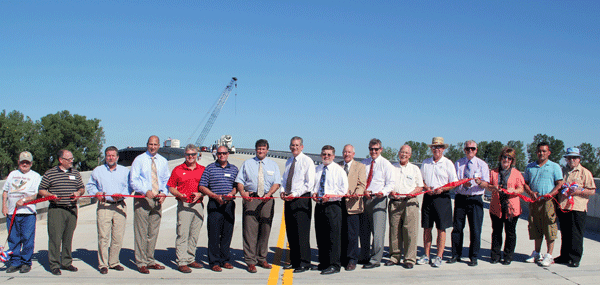 Cutting the ceremonial ribbon Sunday afternoon at the official opening of the new Rulo Bridge, from left: Chuck Simmonds, Karl Forehand, Steve Roberts, Mitch Glaeser, Mike Habegger, Curt Mueting, Tom Goodbarn, Michael Rinehart, Lt. Gov. Heidemann, Sen. Dan Watermeier, Randy Peters, Rod Vandeberg, Monty Frederickson, Charlie Radatz, Beckie Cromer, Anthony Fee and Allen Donigan. Photo by Randy Gottula
It might be a bit of a stretch, but not much of one. Mitch Glaeser inspired more than 1,600 people to write letters, and now, drivers are crossing the new Missouri River Bridge at Rulo without worrying about close calls.  No sweat.
Call Mitch a bridge-builder. Call this the bridge that "Mitch built." The moniker applies to a guy who has led an effort to revitalize this community. He has brought an aging hotel back to life. He has embraced a community that was emerging, but not quite there. Falls City and Richardson County needed a catalyst, and Mitch Glaeser, of Gainesville, FL (and Falls City, NE) was the guy.
On Sunday at Rulo, Glaeser and many others — up to 600 or more — were taking in the pleasant afternoon sun as the new span over the river at Rulo opened — not long after Glaeser called for a letter-writing campaign to get the job done. He followed up, as well, leading officials from Nebraska, Kansas and Missouri to Washington, D.C., to argue the case. That argument was a strong one. The narrow, aging and dangerous old Highway 159 Bridge was way, way past its time. Southeast Nebraska, Northwest Missouri and Northeast Kansas were in need of a safer passage.
 
To read the full article please sign-up for or purchase the Journal's new e-edition.
The E-edition is FREE with your 1-year paid subscription to the print edition of the Falls City Journal. If you are not a subscriber to the print edition, you can purchase a 1-year subscription to the E-edition for only $25 via Pay Pal. A Pay Pal account is not needed to purchase and security is guaranteed.
The E-edition is an exact replica of the printed edition and will be available each and every Tuesday morning! Users will not need to wait on the Journal to arrive in the mail and can access all our weekly paper has to offer 24 hours a day, 7 days a week from a catalogue of E-editions dating back to January 6, 2011.
Instructions for registering. (Please note the two options)
1.) Those with paid subscriptions to the print edition of the Journal please click HERE. A new window will open and you will be redirected to the e-edition application. Please read the instructions at the top of the page before filling out the registration.
or
2.) For those looking to purchase the E-edition, on the left side of the home page click on the blue 'Create an account' link. You will be taken to a new page where you will need to fill out the necessary information. Select "E-edition" under the subscription plan and you will be directed to the Journal's PayPal account where you will pay for your subscription. After payment you will be directed back to the site to log-in and begin use.