Borg, Dunn claim club championships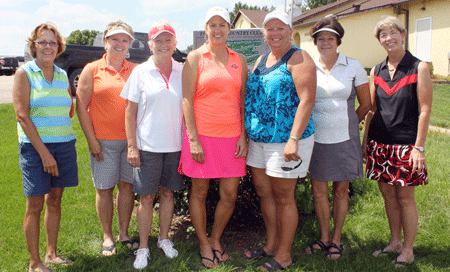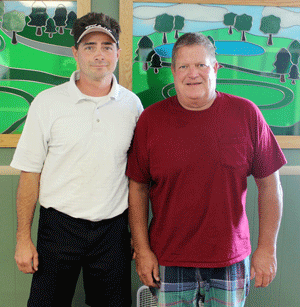 At the annual Falls City Ladies Golf Association's club tournament this past weekend, Joyce Borg and Mary Jo Huettner swept the field to reign as club champion and handicap champion, respectively. In the battle for the scratch club championship, Joyce and perennial contender Linda Jones were tied after the first day, with scratch scores of 94. On day two, Joyce then pulled ahead by four strokes on the front nine, with a 44 to Linda's 48. Linda wasn't taking that lying down, though.  She fought hard on the back nine, and came in with a 41. But when all was said and done, Joyce finished with a 43, was two strokes ahead for a gross score of 181, to Linda's 183. Joyce was then declared the 2013 ladies club champion.
The rest of the tourney was all determined by handicap scores, and the tourney was practically over after the first day when newcomer Mary Jo Huettner shot 55 on the front nine and 52 on the back, with an eighteen-hole handicap of 42. Her net score of 65 was thirteen strokes ahead of the next-lowest competitor, Lynne Davis, who finished day one with a very respectable net of 78.
On day two, nobody could touch Mary Jo. She came into the clubhouse with a 59-53 for a net score of 70, and finished the tournament with a 135. The next lowest score was Joyce Borg's, and she had a net of 153.  Mary Jo reigned supreme. The winners were presented with checks, and gifts from the Ladies Club Association. There were two flights in the tournament, and each flight paid three places. The flight winners and their net scores were as follows:  Championship flight, 1st, Linda Jones, 155; 2nd, Sue Harmon, 160; 3rd, Pat Rieschick, 163. First flight: 1st, Mary Jo Huettner, 135; 2nd, Gail Froeschl, 159; 3rd, Nancy Kelley, 168.
The tournament was run by Ladies Golf Association members Sue Harmon, Lynne Davis, Renee Kopf and Nancy Kelley, and was scored by Lori Gottula.
Men's Club Championship
Joe Dunn's premonition came true Sunday afternoon as he avoided the "big" numbers and carded 22 fours en route to his first Falls City Golf Club club championship over the weekend.
Dunn snaked in an 18-foot par putt on the final hole to card his second score of 72. He said later that he thought he had to make the putt to beat Bill Simon, who posted the round of the tournament on Sunday with a 71.
It turned out Dunn already led Bill by one stroke prior to sinking his putt on the 36th hole, but the exclamation point was more than welcomed.
"On the way out to the course today, I had a feeling I was going to have to make a long putt for par on the last hole to win it," said Dunn. "I said a little prayer to my dad and asked him to help me out if it happened. It was a great feeling."
Dunn, who played alongside Steve Simon, Jeremy Kirkendall and Rob Gerweck in the final group Sunday afternoon, birdied holes eight and nine to bounce back from his only double bogey of the weekend, which came on the par-3 seventh. The back-to-back birdies got him in with an even par 35 and kept him just one back from Simon, who made the turn at 1-under-par 34.
The two entered Sunday's 18 tied.
Holes 10, 11 and 12 proved to be the difference in the two rounds, as Dunn played the stretch  one under par while Simon made double bogies on 11 and 12. Simon came in with a score of 41 compared to Dunn's 37.
Bill Simon's net total of 126 (65-61) earned him the handicap championship and the two-day and Sunday payouts in the First Flight.
Marty Froeschl finished first in the Sunday portion of the Championship Flight with a net-67 and second in the two-day event with a net-138. Steve Simon was third in the two-day portion with a 139.
Dunn and Erik McNeely finished second and third, respectively, in the Sunday portion with net scores of 68 and 70.
Tony Brunette and Bob Aitken swept second and third place in the First Flight in both the two-day and Sunday events. Brunette netted 76-63—139, while Aitken posted 75-69—144.
Matt Froeschl swept the Second Flight with a solid round of 82 Sunday, which netted him a 62. After his net-68 Saturday, Froeschl's two-day total of 130 was five strokes better than Charlie Radatz, who netted 68-67—135. Harry Kirkendall took third with a two-day total of 136 and Mike Gilmore's 137 finished in fourth place. Radatz and Bobby Lock finished tied for second in the Sunday tourney, while Gilmore and Kirkendall were tied for third.
A total of 32 men competed in the 36-hole tournament, which was organized by FCGC board member Bill Simon. A big thank you to Lori Gottula who volunteered her time and assisted with the scoring of both the men's and women's tournaments.
FCGC Course Supt. Josh Brandon and his staff also deserve a big thank you for the course being in excellent shape.