Herbster Farms submits winning bid for '13 Angus Foundation Heifer Package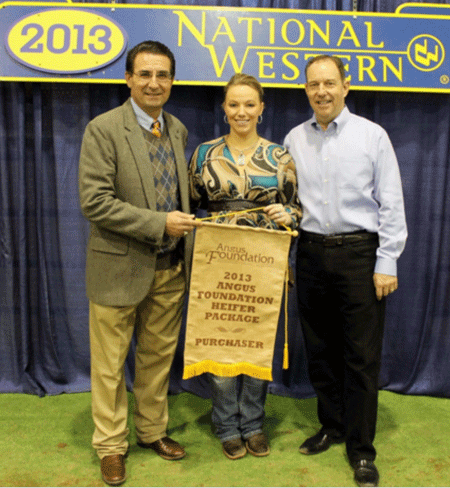 Herbster Angus Farms of Falls City bid $110,000 to secure the 2013 Angus Foundation Heifer Package during the National Western Stock Show held in Denver last winter.  
This year's unique Angus Foundation Heifer Package allows the winning bidder the first pick of a spring heifer from among all of the 2013 spring heifers at Connealy Angus of Whitman, Nebraska. No other spring heifers will be sold until Herbster Angus chooses a heifer. Herbster Angus Farms will not only have first choice from more than 300 Connealy Angus heifers from the 2013 spring group, but will also receive 30 days of free livestock insurance from American Livestock Insurance, transportation of the heifer to Falls City by Lathrop Livestock Transportation, and an Advanced Reproductive Technology Package from Trans Ova Genetics.
To read the full article please sign-up for or purchase the Journal's new e-edition.
The E-edition is FREE with your 1-year paid subscription to the print edition of the Falls City Journal. If you are not a subscriber to the print edition, you can purchase a 1-year subscription to the E-edition for only $25 via Pay Pal. A Pay Pal account is not needed to purchase and security is guaranteed.
The E-edition is an exact replica of the printed edition and will be available each and every Tuesday morning! Users will not need to wait on the Journal to arrive in the mail and can access all our weekly paper has to offer 24 hours a day, 7 days a week and a catalogue of E-editions dating back to January 6, 2011 are available.
Instructions for registering. (Please note the two options)
1.) Those with paid subscriptions to the print edition of the Journal please click HERE. A new window will open and you will be redirected to the e-edition application. Please read the instructions at the top of the page before filling out the registration.
or
2.) For those looking to purchase the E-edition, on the left side of the home page click on the blue 'Create an account' link. You will be taken to a new page where you will need to fill out the necessary information. Select "E-edition" under the subscription plan and you will be directed to the Journal's PayPal account where you will pay for your subscription. After payment you will be directed back to the site to log-in and begin use.