Travelers 18s improve to 24-7-2, win districts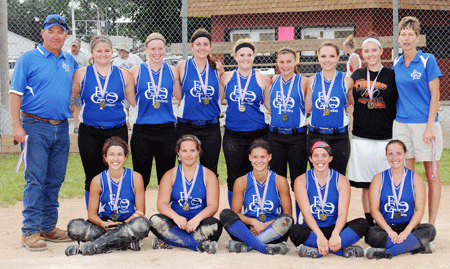 The Falls City Travelers 18-and-Under Softball Team captured the District Championship at Tecumseh Sunday with a 9-5 victory of Syracuse and qualified for the Class C State Tournament in Lexington.
Falls City, now 24-7-2 and winners of six consecutive games, have a lot of softball to play before that trip to Lexington July 19, including the USSSA State Tournament in Lincoln next weekend and the USSSA World Series in Kansas City July 10-12.
FC outclassed the competition at Tecumseh, going 4-0 and winning by a combined score of 42-7. The team Friday beat Palmyra 15-0, and returned Saturday to beat Syracuse 9-1. Sunday, the team beat Tecumseh 9-1 to advance to the championship.
The team has two home games remaining: July 2 vs. Conestoga and July 8 vs. Syracuse.
14-and-Under
The Travelers 14-and-Under Team went 2-3 and placed fourth in districts.
Falls City opened the tournament Friday with an 11-1 victory over Odell, but dropped all three games Saturday to fall out of contention.
The bats went cold for FC in the losses, as they combined to score just eight runs Saturday. The  girls bounced back Sunday with a 12-9 victory over Murray.
Now 11-11-1, the 14s play host for the next few games.  Johnson visits Hartman Field Thursday and the league tournament will take place in Falls City this weekend.
The Class D State Tournament will be held in Grand Island and is scheduled for June 28-30, while Class C State, FC's classification, is scheduled for July 18-20 in Hastings.  
FC's final home game is scheduled for July 2 vs. Sabetha.
12-and-Under
Falls City's 12-and-Under Team entered last weekend's District Tournament at Tecumseh on the heels of a four-game winning streak     and extended that streak to five games with their 13-10 first round win over Dewitt.
Friday's win knotted up the win-loss columns at six apiece, but any momentum from the five-game surge was washed away by Saturday's rain.
FC dropped both games Saturday, opening with an 11-7 loss to Nebraska City, a team they defeated 8-4 on June 4.  FC was defeated 11-1 by Odell in their second game of the day.
FC hosts Johnson Thursday in what will be their final home game of the summer.
The 12-and-Under league tournament will be held in Nebraska City July 6-7. FC closes out their season with the Class C State Tournament in South Sioux City July 20-21.
10-and-Under
It was feast, then famine, for the youngest Travelers, now 10-4 and bound for the Class C State Tournament July 19-21 in Grand Island.
FC opened with lopsided 22-4 and 10-1 wins Friday over Auburn White and Eagle, respectively.
Saturday, the team got no breaks in a 6-5 loss to the home team in Tecumseh.
Sunday, as the tournament moved to Auburn due to the rain, Falls City beat Auburn Red 20-5 to set up a big rematch with Tecumseh. The rematch was no match, as FC fell 18-4.
Falls City hosts Oregon, MO, tonight and Johnson Tuesday.