Electronic Medical Records at CMC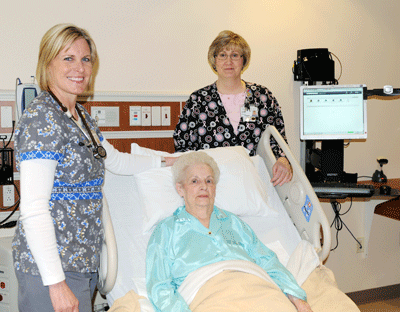 Community Medical Center nurses Cheryl Finck, left, and Ann Hoy help care for patient Mary Campbell. CMC recently invested $3.5 million for Electronic Medical Records. Photo by Scott Schock.

Imagine you are on vacation and encounter some sort of medical issue.  Your medical records, all on paper, are located hundreds if not thousands of miles away.  Those records need to be accessed immediately.
Beginning May 1, Community Medical Center in Falls City has initiated EMR, or Electronic Medical Records, which will enable virtually instant accessibility to your vital information.  Quickly sharing medical information can be a lifesaver.  And it is done privately.
CMC CEO Ryan Larsen said advances in healthcare often are "assisted with technology," but that many facilities have not yet taken advantage of the computerization that has taken place, certainly in medical records.  "The technology is now in place," said Larsen, to store records electronically and that is "what patients and their families expect."
He said CMC recently completed a "lengthy selection process," involving board members, staff and doctors and several trips to different hospitals, before deciding on the best system for the local medical center.  After the selection was made, the system was installed and hospital and clinic staff members have been reviewing the process that "captures needed information and tracks it all," Larsen explained.
The EMR system, Larsen said, represents a $3.5 million investment.
Larsen said the system went "live" on May 1.  Updates will be made for at least a year to come.
So, what should patients expect?  At first, a bit longer visit.  CMC and Family Medicine Clinic ask that patients arrive 15 minutes prior to an appointment and bring the following information:  current photo ID; insurance cards; advanced directive/POA with signed consent forms; medication list; allergy list.  The idea is to "assure safe care," Larsen said, regardless of where that care may be delivered.
Eventually, those vital records will be able to be moved virtually anywhere and instantly.
Larsen assured CMC and clinic patients that they will receive the "same great care and personal touch."  He said past hospital administrations have urged the implementation of EMR, and that while CMC "wasn't behind," EMR will "help us keep pace."  In fact, EMR "will take us a couple of generations ahead."
Change is not easy, the administrator said, and lots of plans had to be double-checked.  But the staff is now ready and patients should not "feel our learning curve."
Larsen said converting to EMR "was the right thing to do as a community hospital going forward."  Doctors "want these technologies," he said, especially young or new doctors.
When the Journal recently visited CMC, Mary Campbell was a patient under the care of Dr. David Borg.  "I think it's great," Mary said, noting that the new system will "insure no mistakes" on such things as medication.  Nurse Cheryl Finck, who was attending Mary, described the new system and "exciting and challenging" and "more user friendly," making "health history research so much easier."  Presently (but not for long) patients' health histories are "part paper and part computer."  But before long, those histories will be "all computer," Cheryl said.
Nurse Ann Hoy, who also was helping with Mary's care, said "patient safety is enhanced" with the EMR system.  "It is all there," she said of the easily accessed computerized records.  Ann described the system as "more efficient" and allowing for "fewer changes for error."