Hanging Out the Warsh 4-2-13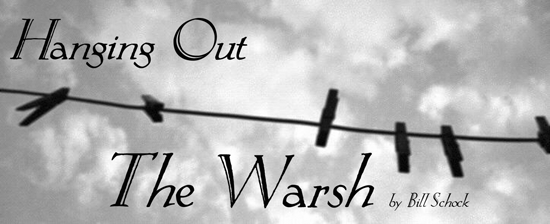 When you're an old geezer like yours truly there aren't all that many adrenaline rushes left.
But I experienced one last week when I opened a letter from long-time friend Bettye Garrett of Denver. A card fell out and a quick look told me it was my membership card to the Knightsbridge Studio Club in London.
The last time I had seen that card was at 3:30 a.m. April 9, l944, (Easter Sunday) when I was preparing for a 4 a.m. breakfast and a 5 a.m. briefing for the day's bombing mission—to where I didn't know until Colonel Dale O. Smith revealed the bad news at the briefing.
All identification items had to be put in my footlocker in event I was shot down and became a prisoner of the Nazis. My dog tag with my name and serial number– O-746434–was all the info my captors would get.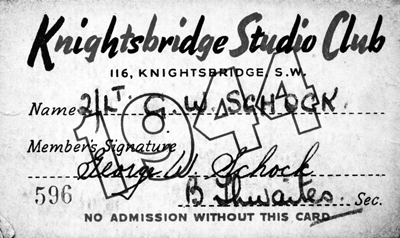 With the card once again in my possession my time clock did an amazing 69-year reversal. The Knightsbridge Studio Club came into quick focus. Jim Garrett (Bettye's late husband), bombardier on our B –l7 crew and my best friend, and I were on a three-day pass from Grafton-Underwood Air Field, about 80 miles north of London, where we were fighting the air war over Europe with the 8th Air Force. In those days there wasn't that much to do in London which was blacked out due to nighttime raids by German bombers but at least we were not high in the sky over Germany. Londoners were spending their nights in the Underground (subway). And having been there a couple of times we had walked wide-eyed through Westminster Abbey, checked our watches with Big Ben's timepiece, stood outside the entrance to No. l Downing Street with Prime Minister Winston Churchill probably inside, dodged the hundreds or thousands of pigeons at Trafalgar Square, and stared through the tall iron fence at super-guarded Buckingham Palace. There were always recently released U.S. movies to see so that's where we spent our afternoons.
We had heard of the Studio Club so our last night in London we made our way through the blackout and walked in. Entrance was by membership only so I became  member #596. It was very nice, kinda upscale but not swanky. Jim and I got a table and sat down to watch other people having fun.
The small band was playing Glenn Miller, Benny Goodman and Tommy Dorsey tunes and military guys—Royal Air Force and Yanks—were dancing. Jim and I wondered to each other where those good-looking girls with them came from. We'd had enough of it in an hour or so and left. That was the only time I ever used the membership card that arrived by mail last week in pristine condition.
Now back to my leaving my personal items in my footlocker. That was the day my B-l7 took some bad flak hits over Denmark and I became a German POW.
Early the next day, the guys at Grafton Underwood who had this unpleasant duty came to the barracks to pack up my footlocker and remove it for shipment back to Falls City. It was a psychoactive move. The brass didn't want those left in the barracks to be reminded that they might be next. As they went through my billfold they removed the Knightsbridge Studio Club membership card and gave it to Jim, who had not gone on that bombing mission, for use if he ever got back to London. (That footlocker still is in my basement with some of the same stuff still in it.)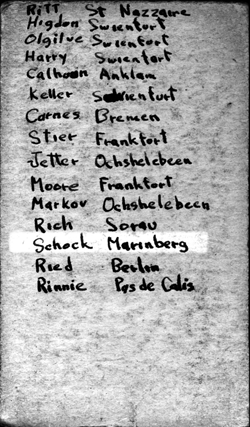 Jim made it somewhat historic. On the back of the card he listed the pilot's name of the crews in our squadron who had been shot down while we were stationed at Grafton-Underwood.
Opposite the pilot's name was the target they were bombing. Fifteen crews were listed so that meant l50 men had been either killed or had become POWs. In my case it was "Schock. Marienburg."
Jim was lucky enough to finish the couple of missions he had left before rotating back to the U.S. My membership card was with the war mementos with which his sister in Canon City, CO, had been entrusted. When she passed away  recently and her possessions were being sorted though, the card wound up with Bettye. I'm sure she knew that I would not be passing through the entrance to the Knightsbridge Studio Club in London's Piccadilly Circus anytime soon, but mailed it to me to be included among my mementos. The card was insignificant but she knew it would stir memories.
It had been en route for 69 years but that didn't matter. I've enjoyed turning back the clock to some of my better days at Grafton-Underwood Aerodrome and to those lucky ducks dancing with pretty girls at Knightsbridge Studio Club.