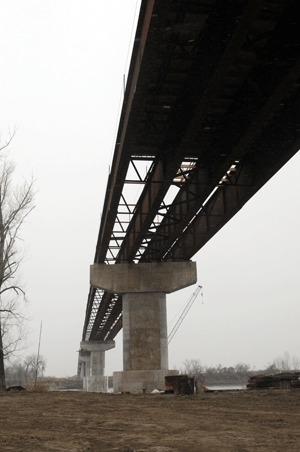 A mid to late summer 2013 time frame has been set for the completion of the new Missouri River bridge at Rulo.
Mike Habegger, Project Manager with the Nebraska Department of Roads, hinted Friday that all signs are pointing towards a late-July completion of the $25 million bridge project, which began in September of 2010.
"Our hope would be mid-summer 2013," Habegger said. "We had a little bit of a delay recently when one of the supplier's contractors was having a little trouble getting some material to them. It pushed them back a couple weeks, but nothing severe."
A little more than a year ago, Habegger predicted the bridge being completed in late-2013. A cooperative Mother Nature in 2012 and the hardworking crews on site were credited with moving that completion date up nearly four months.
"The cold and snow is hampering us right now," Habegger said. "We get a little bit of snow up on the curves and it makes it tough trying to walk around up there when we're decking the forms. Things really slow down."
The recent minor setbacks caused by snow and the delay on materials is certainly small potatoes considering what the crews faced after the flood.
Once the water receded, crews were left with an extensive restoration process to the land around the worksite that lasted nearly three months.
"We spent 8-12 weeks rehabilitating the land after the flood," Habegger said. "There was about 13 feet of silt deposited back into one of the cofferdams, which had to be removed, and we had to fix up all the roads again to get equipment down there."
After the clean-up, extra crews were brought in and worked seven days a week to make up for the time lost.
Currently, crews are headed out over the river putting the deck forms down for the 1,026-feet long river section, or Main Span, of the bridge. The length of the Main Span is more than 40 percent of the 2,400-foot bridge.
Habegger said he would have a better idea about an exact completion date in the next 2-4 weeks.