3rd a first for Goltz and Irish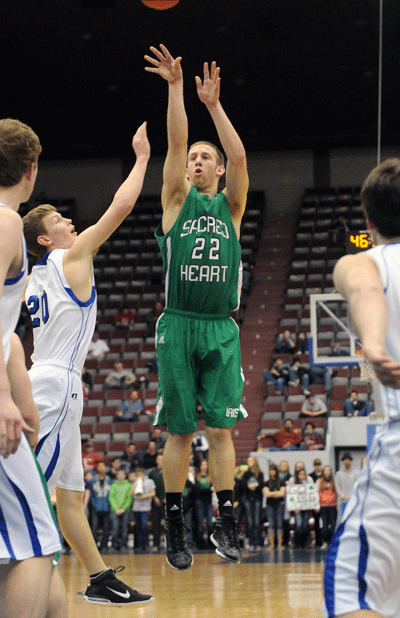 Until Saturday, Falls City Sacred Heart boys' basketball head coach Doug Goltz, who just finished up his 26th year at the school, had experienced almost everything a high school coach could in Nebraska.
500 (and counting) wins. Eight state championships in boys' basketball. Six in football. Countless gold medals for his athletes at the state track meet.
But never a third-place consolation game in Lincoln in March.
In 2008, the Nebraska School Activities Association added third-place consolation games to the girls and boys state basketball tournaments in all six classes, so for the past six seasons a dozen teams, compared to only six prior to 2008, can say they ended their season with a win.
The catch being half of those are the third-place finishers, who have to somehow put the disappointment of a loss in the semifinals of the state tournament behind them and be ready for a game that lacks the same luster as those played (for the final time this year) at the Devaney Sports Complex in Lincoln.
Falls City Sacred Heart, like the Lady Irish a week before, found themselves in this predicament over the weekend in Lincoln and certainly with the sourest of tastes in their mouths after Friday's 45-42 loss to eventual Class D2 champion Wynot at the Pershing Center.
The Irish rebounded though and captured the first third-place trophy from the state tournament for the boys' basketball program with a 57-56 victory over top-seeded Leyton (22-2) in Saturday's consolation game played at Lincoln North Star High School.
"We talked about Saturday's game being another chance for the 2012-13 basketball team to play together," Coach Goltz said about the experience. "It was another chance for the juniors to play with the seniors and if we could go out with a win, well then it's sure going to feel better than the night before.
"Obviously we would have rather been playing at Devaney, but since we are here, let's go play another game and have fun doing it."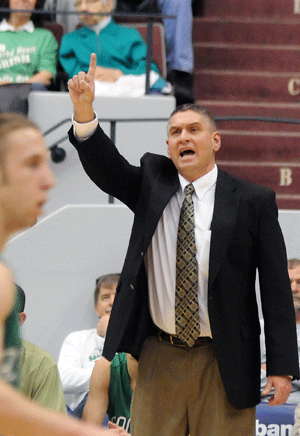 Goltz added that it was good to see both teams play hard Saturday after their losses Friday afternoon. Leyton fell to Spalding/Spalding Academy 68-51 in their semifinal.
"Both teams came out and played really hard. I think some times in those third-place games, some kids don't compete, but that wasn't the case Saturday. It was a hard-fought game."
FC Sacred Heart and Leyton combined for 12 threes in the game and both teams finished close to 50 percent shooting from the floor.
The Irish also overcame a great individual game from Leyton junior Dylan Brenner, who scored from just about everywhere in the loss and finished with 27 points.
"The Brenner kid had as good a single-game performance against us at state as I can recall," Coach Goltz said. "He did it all for them Saturday, got to the basket, hit from outside. We even tried a little box-and-one defense on him and he stills scored."
Senior Brady Cromer led the Irish with 17 points and scored his team's final five points of the game to hold off Leyton. None, though, were bigger than his 3-point-play midway through the fourth that found the 6-foot-4 post player a little out of his element.
With just over four minutes left in the game, the big fella found himself leading a fast break after he recorded a steal on the defensive end. He took the dribble coast-to-coast for the lay-in and was fouled by Leyton junior Brennan Cruise. Cromer, who led FCSH with 17 points, finished the and-1 to give the Irish a 55-52 lead.
Cruise answered for Leyton with two of his 11 points to cut the lead to one, but the Warriors were not able to capitalize on two opportunities in the final minute of the game and a desperation 3-point attempt with 1.7 on the game clock failed to draw rim.
Irish senior Lane Barnhill, who had a great three-day run in Lincoln after missing all of last year with a knee injury, finished with 14 points and was 2-of-4 from behind the arc against Leyton. Barnhill tied Wynot's Jackson Sudbeck for third in tournament points scored in Class D2 with 43 and both were named to each of the World Herald and Lincoln Journal Star's D2 All-Tourney teams.
Junior Colin Niemeyer knocked down three 3-pointers for the Irish on Saturday to finish with 12 points, while fellow juniors Jarod Fiegener and Matt Goltz each grabbed five rebounds. Goltz also led the Irish with three blocks and five assists.
At the very least, Saturday's win helped blur out or temporarily replace the memories and what-if's from Friday.
FCSH only committed 11 turnovers and actually made more field goals than Wynot, but Coach Goltz pointed to the timing of his team's mistakes and summed it up by saying, "It was a tough night. We didn't get any breaks."
He also noted the 20-attempt discrepancy at the free-throw line between the two teams, which made it tougher on his team defensively and allowed Wynot to continue putting points on the board despite the Irish getting stops.
FCSH finished 3-for-4 at the stripe, while the Blue Devils were 13-24, including 7-14 in the fourth quarter alone. A far cry from their numbers at the charity stripe heading in to the state tournament, where the Irish attempted 186 more and made 131 more free throws than their opponents.
"It wasn't that we shot that poorly, we just turned it over at some really key times," Coach Goltz continued. "Our defense was good enough to win. We just didn't play as well offensively as we needed to and their zone gave us some trouble. I thought we had some opportunities inside to score, but the big kid Wieseler either altered shots or blocked some shots. It was tough to score around the basket that's for sure."
Goltz is referring to Nathan Wieseler, a 6-8 junior for Wynot who finished with 10 points, 12 rebounds and made life tough on the Irish post players all game.
Matt Goltz and Cromer scored 7 and 8 points, respectively, and Fiegener was held without a point.
The Irish never trailed Wynot by more than seven points, but could not recapture the lead after Brady Stratman scored inside for Wynot to give his team a 15-14 advantage with 5:15 left in the first half.
FCSH tied the game at 29-29 with an 8-2 run during the third quarter, but the Blue Devils pushed the lead to 38-31 midway through the fourth.
Niemeyer's second 3-pointer of the game came with 1:43 left and made it 42-39. Wynot added a free throw, then Barnhill's second trey of the quarter made it a one-point game, 43-42, with 29.5 on the clock.
Wynot junior Davis Wieseler then knocked down 1-of-2 free throws to make it 44-42 with less than 26 seconds left and gave FCSH the chance to hold for one shot.
The Irish called a timeout and Coach Goltz, aware of the Blue Devils having four fouls to give, said he expected them to foul and was stunned at what transpired next.
"We set up a zone out-of-bounds play that we run quite a bit where we try and free up a shooter in the corner," Barnhill actually screens for Colin, who rolls into that middle high post area," Coach Goltz said of the play on the Irish's final offensive possession. "Barnhill then gets a screen and pops to the corner. I thought maybe we'd be able to get that shot, but instead it went into Colin and because they had fouls to give, they fouled him but the refs didn't call it. It ended up being a loose ball and instead of a jump ball they called us for the foul."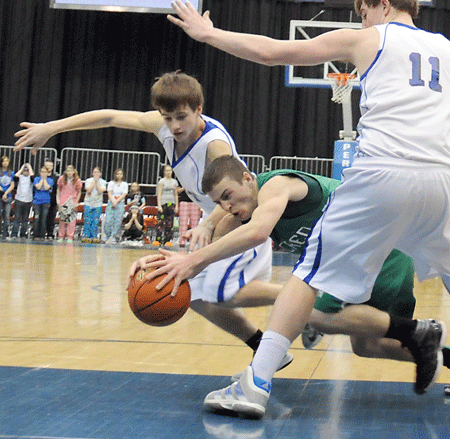 He said he was not given an explanation by the refs for that call or any other call during the Wynot game.
Brady Stratman hit 1-of-2 free throws with 3.1 second left to make it 45-42, then Barnhill's long-range heave was off the mark and the Blue Devils advanced.
Barnhill scored the only two field goals in their 5-point second quarter, had eight of the 13 points in the final frame and led all scorers with 19 points. He also grabbed eight rebounds.
Cromer and Goltz each pulled down nine boards Friday and Goltz led the play-making with four assists.
Chaz Dunn, who was FCSH's leading scorer this season at just over 11 points per game, was forced to the bench with foul trouble for two big chunks of the game and it appeared to curb any chance the junior guard had of finding a rhythm offensively. Dunn, a junior point guard, sat the final three minutes of the half with two fouls, then picked up his third less than three minutes into the third quarter on what looked like a clean block. He finished with just two points against Wynot and attempted only one 3-point shot.
Dunn led the Irish with 19 points and knocked down 10-of-13 free throws in Thursday's opening round win over Sterling.
Coach Goltz said the frustration was made worse Friday because despite his team's best effort, they could never fully capture the momentum.
"It was one of those games where we were fighting uphill all night and we just couldn't get over the hump. If we could have got the lead, maybe the pressure would have been a little bit more on them, but it was always on us. Every time we would get it to where it was tied or it looked like we'd get some momentum there would be some play or a call that seemed like Wynot just took it right back."
Irish seniors who played in their final games Saturday were Thomas Froeschl, Clay Finck, Brady Cromer, Lane Barnhill, Lane Scheitel and Colton Witt.
Coach Goltz thanked his six seniors who he said, "Were a really great group of leaders, who did everything we asked them to do and were really great teammates."
The Irish finished 24-5 on the season, marking their first 20-win season since 2007-08, and finished third in both the World Herald and Journal Star.
Class D2 3rd Place
Scoring vs. Leyton
FCSH – Niemeyer, 12; Dunn, 6; Goltz, 8; Barnhill, 14; Cromer, 17.
Leyton – Metzer, 9; Schumacher, 3; Brenner, 27; McKay, 6.
Class D2 Semifinal
Scoring vs. Wynot
FCSH – Niemeyer, 6; Dunn, 2; Goltz, 7; Barnhill, 19; Cromer, 8.
Wynot – C. Stratman, 1; N. Wieseler, 10; D.Wieseler, 5; Sudbeck, 7; B. Stratman, 9; Boeckman, 3; Lange, 10.
Class D2 1st Round
Scoring vs. Sterling
FCSH – Niemeyer, 3; Dunn, 19; Finck, 5; Goltz, 1; Barnhill, 10; Feigner, 2; Cromer, 1.
Ster – Wenzl, 2; Trauernicht, 7; Malone, 4; Phillips, 2; Zuhlke, 5; Benson, 2; Lucas, 6.